Dubai is one of the top cities in the world for a family vacation. The city offers great experiences and attractions that even families can enjoy. So, if you are thinking of a family vacation, think no further than Dubai. From the best amusement parks and architectural marvels to logic-defying creations that are usually adorned with the tags "world's first" or "world's largest", Dubai has everything for a family to have the best time. Here are 16 things to do that you should include in your Dubai packages before your vacation:
Check Out Dubai Aquarium & Underwater Zoo
Entertainment meets education at the Dubai Aquarium & Underwater Zoo. This is a place where your kids will learn while being mesmerized by the beautiful marine life. Dubai Aquarium & Underwater Zoo holds more than 300 species of marine animals from all over the world, including the highest number of Tigers Sharks in captivity. They also have other shark breeds and rays. This place was mainly built for conservation.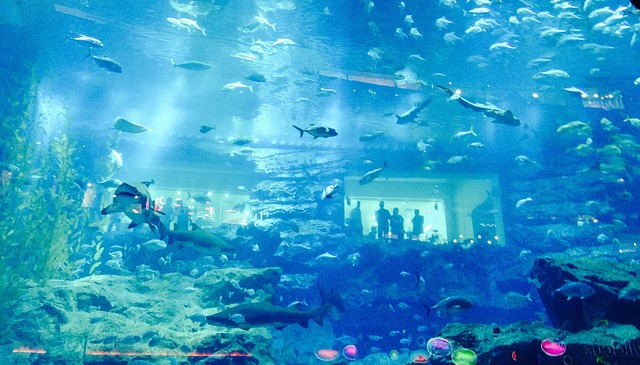 Dubai Aquarium & Underwater Zoo offers you many experiences. While most visitors love walking through the 270-degree-view and 45-meter-long tunnel, you can also choose options like diving with the sharks, snorkeling, or glass-bottom boat rides on the tank. Either way, you are going to get a fantastic experience and your kids are going to love this place.
Visit Dubai Miracle Garden
Garden in a desert city? That's what Dubai likes to do. They like to defy logic and create something unique and the Dubai Miracle Garden is one of those unique creations. Spread across a massive 780,000 sq. ft. Dubai Miracle Garden is the world's largest natural garden holding more than 250 million plants and 50 million flowers.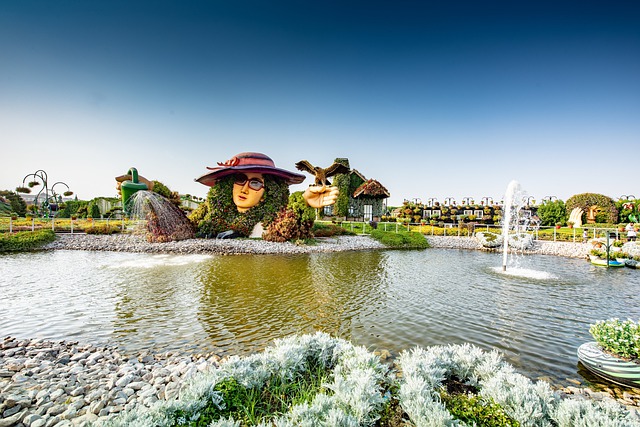 Apart from mesmerizing flower arrangements, the park also has a few other noteworthy things to see like the Airbus A380 structure made completely from flowers. This structure holds the world record for "world's biggest flower structure". The garden also has the Dubai Butterfly Garden where more than 15,000 butterflies from 26 species are housed, making Dubai Miracle Garden a miracle in the truest sense. Dubai Miracle Garden is usually closed from May to September owing to the heat of the city, so, plan accordingly.
Ski at Ski Dubai
As you know, the people of Dubai love to defy logic, and to continue with this theme, there's Ski Dubai. Yes, this is a ski resort, complete with a snow-covered mountain, where you can go skiing right in the heart of the city. Located in the Mall of Emirates, Ski Dubai covers a massive area of 22,500 meters that has been dedicated to skiing. The whole resort is open throughout the year, irrespective of the weather outside, and is maintained at a temperature range of -1 degree to 2 degrees.
The indoor mountain is 278 feet (85 meters) high and has 5 slopes of varying steepness. There's also a cafe where you can gorge on delicious food and hot beverages. You can buy winter clothing and skiing equipment at the in-house retail store. There's also the most popular (and cutest) attraction here – penguins. Several penguins call this place home and they are let out throughout the day to interact with visitors who have made bookings. This place is extremely popular so be sure to book your Ski Dubai tickets in advance.
Catch Views from Burj Khalifa
This goes without saying, if you are coming to Dubai, this is an absolute must. Burj Khalifa is the tallest skyscraper in the world, and the views from here are just magnificent. The Burj Khalifa stands at an impressive height of 2,722 feet (828 meters) and is one of the most visited structures in the UAE. Visiting Burj Khalifa is a great family activity as there's also much to learn.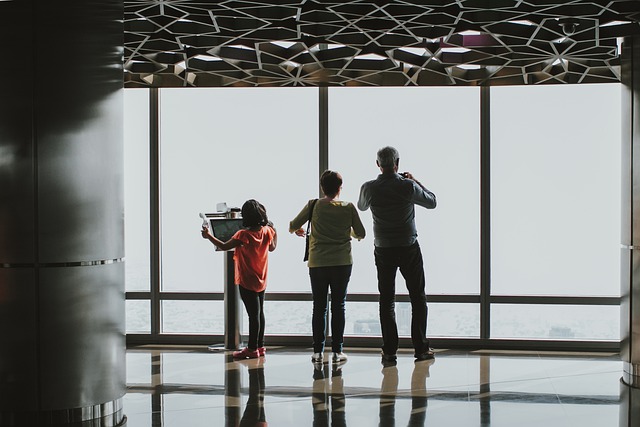 The tour starts at the bottom in the lobby where you are shown a multimedia presentation about the building. Next, you head to the elevators. There are 57 in total, including the world's fastest elevator that takes you to At the Top, the 1st viewing deck on the 124th floor. There's another viewing deck on the 148th floor. Views from both decks are just breathtaking, and something you will always cherish as a family.
Witness the Dance of Dubai Fountain
This is a free activity. The Dubai Fountain is a fountain system built on the Burj Khalifa Lake, which is an artificial lake near Burj Khalifa and Dubai Mall. Every evening, the fountains start-up and perform to the latest music along with colorful projections. The Dubai Fountain system is 902 feet long and contains 50 color projectors and 6600 lights.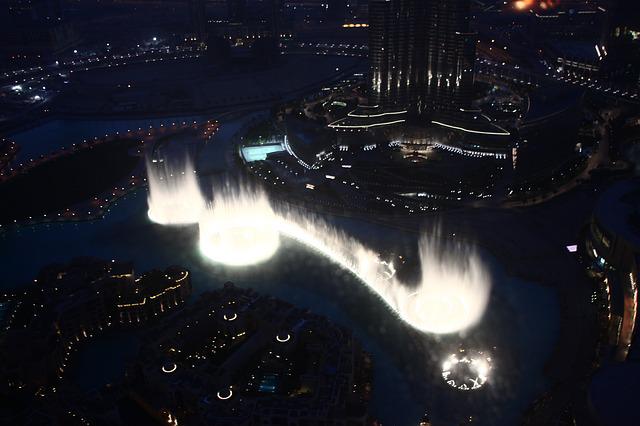 There's one performance in the afternoon from 1:00 pm to 1:30. The fountains start up again at 6:00 pm and go on performing till 10:00 pm during the weekdays and 11:00 pm during the weekends. The Dubai Fountain can shoot water up to 500 feet and performs on the latest music hits. It is quite an entertaining sight as the sun goes down and the lights surprise.
Marvel the Dubai Frame
Dubai is home to some of the most unique structures, but none more unique than the Dubai Frame. Located in Zabeel Park and adjudged as the biggest frame in the world, Dubai Frame embodies a brilliant concept. On one side of the frame is old Dubai, and the other side looks towards the new and modern developments of the city.
At the bottom of the frame, there's a gallery dedicated to the transformation of Dubai known as Dubai Past. It's full of holographic displays. After enjoying them, head to towers that are 492 feet linked by a 1000 sq ft. glass bridge. It's quite a thrill to walk on this near-transparent bridge. The view from both the towers is marvelous and you can witness the past and the future of Dubai.
Dune Bashing in Desert Safari
Fly through the golden dunes of Dubai desert in the desert safari. This family activity is oodles of fun and what's more is that you can choose from many desert safari Dubai packages. The dune bashing experience is nothing less than a roller coaster ride. You are seated in a plush 4X4 SUV and the driver then takes you for a thrilling ride over the massive dunes. The car jumps through the air, making you scream with excitement for the full 20 mins of the ride.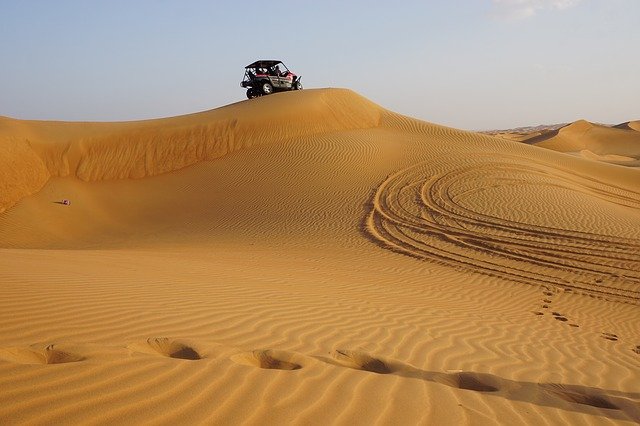 If this activity alone is not enough, you can also choose sandboarding, where you get to use a snowboard and ski down massive dunes, or ride an ATV (All-terrain Vehicle) through the dunes, where you are in control of the vehicle. You can also choose other activities like camel riding, traditional dress photography, BBQ dinner, and overnight stays. This is one of the best family-friendly activities in Dubai.
Visit Global Village
Experience the world at Dubai's Global Village! This place is where you can experience the cultures, food, and traditions of over 40 countries in one location. This could be one of the most fun and educational experiences for your kids. Global Village is open from October to April.
At the country-specific pavilions, you can interact with the people and buy foods and handicrafts that are authentic. There are also funfairs, music shows, comedy shows, and magic shows that will keep you entertained. Global Village is a great way to learn about other countries and cultures, especially for kids.
Splash about at Aquaventure Water Park
Considered as one of the best water parks in all of the Middle East, Aquaventure Water Park is not just a water park but an experience. No other water can boast of having a shark lagoon full of sharks and rays and a Dolphin Adventure where visitors can interact with dolphins. Other must-see places here are The Lost Chambers Aquarium, and Ultimate Aquarium Dive.
Aquaventure Water Park now features 105 slides and rides, including a private beach, dedicated childrens' area, and rides like Blackout, Shockwave, and Medusa's Lair that bring in enthusiasts from all over the world. Aquaventure Water Park is the best water park in the world and should not be missed at any cost.
Skate at Dubai Ice Rink
Beat Dubai's scorching heat at Dubai Ice Rink. This Olympic-size ice rink is located in the Dubai Mall and is a favorite of all the children of the city. Many even take professional ice-skating lessons which are very popular during vacations. Tourists can also visit the rink by buying a ticket.
At the rink, all you have to worry about is enjoying yourself as the rest is taken care of. The rink is well-maintained and quite safe. You can hire skates that are of great quality, and if you don't know how to skate, you can take quick lessons as well. But this is not all. Dubai Ice Rink also holds DJ nights where the whole rink turns into a giant club full of dance, music, and entertainment. Just remember to carry some warm clothing as the place is quite chilly.
Visit Dubai Parks & Resorts
4 massive amusement parks become one at Dubai Parks and Resorts. Legoland Dubai, Bollywood Parks, Motiongate Park, and Legoland Water Park together are a part of Dubai Parks and Resorts. In total, there are more than 100 attractions and rides that you can enjoy here.
The Motiongate Park brings you attractions and rides that bring alive your favorite movies like Shrek, Kung Fu Panda, The Smurfs, and The Hunger Games. Bollywood Park is dedicated to all things Bollywood and pays homage through 28 rides. Legoland Park and Water Park are completely built around the Lego theme. Each park is simply amazing and you can even choose to stay at Dubai Parks and Resorts, so you have ample time to explore it all.
Cruise Dubai Marina or Creek in a Dhow
Dhows were once used for fishing and pearl diving but are now supporting the economy in another way. The industrious people of Dubai have repurposed old dhows into leisure cruise ships on which you can go on a cruise of the Dubai Marina or Dubai Creek. But there's more!
The dhow cruises include entertainment by world-class performers, and a buffet dinner full of continental, Arab, and Indian cuisine. The night ends with stunning views of a fully-lit Dubai city. The Dubai Marina cruise takes you through the newly developed Dubai Marina area while Dubai Creek is old Dubai. Each place has its own charm and is worth exploring through a dhow cruise. You can even take your spouse on a romantic cruise and make it a magical night.
Take a Ride on Ain Dubai
Ain Dubai is the tallest Ferris wheel in the world. Standing at an impressive height of 820 feet (250 meters), Ain Dubai is located on Bluewaters Island and has 48 cabin decks that comfortably hold up to 1750 passengers. These cabins are temperature-controlled, so you are cool throughout the journey.
Since Ain Dubai is located on an island, you get unobstructed, panoramic views of the coastal area. The whole experience is quite breathtaking. You also have the option of choosing premium cabins that come with food and beverage services. This is a good place for a family to relax and enjoy the views. Plus, once done with the ride, you can also enjoy Bluewaters Island, which is one of the best leisure destinations.
City Tour on Hop-on & Hop-off Buses
Hop-on & Hop-off bus tours are one of the best ways to explore Dubai at your own leisurely pace. Getting around with a family and sightseeing all over the city can be quite a task, but if you get Hop-on & Hop-off bus tickets, it becomes quite easy. You simply get on the bus and get off at the attraction you want to see. By the time you are done, the next bus arrives and you just get on and move to the next location.
Hop-on & Hop-off bus tours are extremely popular and cover all the major tourist attractions of the city. The buses are air-conditioned and quickly get you around the city. And the best part is that the tickets are quite affordable. This service is so good that it has become a must-have experience.
Shop at Dubai Shopping Festival
Even if you aren't a shopaholic, shopping at the Dubai Shopping Festival (DSF) is something you have to do. DSF is the largest shopping festival in the world that usually happens at the end of the year. There are crazy discounts and offers available at most of the retail stores in Dubai. Think of it as a month-long Black Friday.
People from all over the world come to enjoy the experience, dine, and shop to their heart's content. DSF also holds a daily raffle where people can win massive cash prizes, gold bars, and cars. Yes, this is easily the most extravagant shopping festival in the world and worth enjoying as a family together.
Watch La Perle by Dragone
Ever heard of a show that's so good that it becomes a permanent fixture of the theatre? This is what happened with La Perle. Written, choreographed, directed, and crafted by Franco Dragone, La Perle is the story of Dubai's pearl diving history presented in an aqua theatre format.
But don't mistake it for just another theatre show. La Perle is full of acrobatic stunts, adrenaline-pumping motorcycling stunts, and death-defying action that will keep you on the edge of your seat throughout. This brilliant show is so well designed that all the crazy amounts of water used during the performance quickly drains out for the show to continue. It is an experience only Dubai can provide.
These 16 things to do in Dubai with family are great experiences and will bring you all together and make your family vacation perfect. So, book the right Dubai packages today and have a great time in the best city in the world!
Author Name: Savita Pillay
Author Bio: Savita Pillay is an educationist turned writer from Pune, India. She has composed and edited numerous articles in her writing career and had travelled to the UAE, where she pursued her love for teaching. With a Bachelor's degree in English, she is an avid reader, who loves to travel and gorge on sumptuous food.