Sri Lanka is an excellent child-friendly destination as it's such a family-orientated nation, its easy to get around and not too crowded. Not to mention the wealth of activities to do that kids will love within the boundaries of this fascinating island. It is certainly a country of contrasts; ringed with beaches, filled with jungle and crisscrossed by tea plantations and mountains through the middle.
Even the choosiest traveller will find somewhere to feel at home here. Not only that, but there are things to learn, delicious food to eat, wildlife to find and fun to be had in the ocean. It is really impossible to be bored in Sri Lanka and it suits many different tastes and travel styles.
Here are 9 brilliant things to do in Sri Lanka that kids will love:
The Indian Ocean that encompasses the island is home to five species of a sea turtle. Here you can find the green turtle, hawksbill, Leatherback, Loggerhead and the Olive Ridley turtles.
They are so numerous that they can be seen in many ways, whether on a boat trip, snorkeling on the beach or from land with sharp eyes or a pair of binoculars. Always check the conditions before a boat trip as it can get very choppy!
Sea turtles can easily be seen in the snorkeling area on Hikkaduwa Beach on the West coast and from Coconut Hill at the end of Mirissa Beach for those who don't want to brave the sea. There are turtle hatcheries dotted around the coasts, but always check their ethical credentials before visiting as many are just set up to make money from tourists.
The South and West coasts of Sri Lanka have wonderful places to learn to surf and some excellent schools to choose from. Remember to research ocean conditions and the reputation of schools before you go. Never leave children unattended in the sea at any time, even with a teacher.
One great place for kids to learn to surf is Hiriketiya Beach, as its a curved bay with a narrow opening so the waves aren't too powerful. Along the beach are many schools with chairs outside so parents can watch their children taking on the waves.
Not all beaches in Sri Lanka are good for swimming or snorkelling, but there are many that have rockpools that are full of life. Rekawa Beach in the South has amazing rockpools that kids will enjoy having a poke around. Inside the rocks are many types of fish, crabs and even birds trying to feast on them.
If you haven't tasted Sri Lankan food before then you and your family will be in for an absolute treat! Meat-eaters and vegetarians alike will enjoy the scrumptious delights on offer, like curries, kottu (roti mixed with stir fry) and egg hoppers (rice pancakes).
So many tourists become obsessed with this great grub that they want to recreate it when they get home so many places offer classes. This is the perfect activity to do with kids, especially if the weather isn't great. Cooking classes take about 3 hours and the 6 dishes you often make include lunu sambal (onion relish), raita (yoghurt condiment), coconut sambal (coconut relish), cashew curry, parippu (dal) and roti (flatbread). The best bit is getting to eat it at the end and even take some back with you for later.
Next to the modern city of Polonnaruwa in Central Sri Lanka are sprawling ancient ruins that wouldn't be out of place in an Indiana Jones film. Polonnaruwa's old ramparts are covered by jungle and patrolled by energetic toque macaques, shy deer herds and languid monitor lizards. Even kids who aren't that interested in history will want to get lost in this place while being watched over by crumbling stupas and polished Buddha statues.
One of the most incredible animals that roams the green interior of Sri Lanka has to be the Asian elephant. Around 6,000 of these enigmatic Sri Lankan subspecies make their home here. The best places to see them are in Udawalawe National Park, Yala National Park (also home to leopards) and Minneriya National Park. From May to November hundreds migrate in groups to a lake in Minneriya in an event called 'The Gathering'.
Safari guides are so skilled at finding wild elephant herds that you have a good chance of seeing them. Other wildlife that you may see on safari include mongoose, sloth bears, peacocks, crocodiles, water buffalo and wild boar. Avoid any places offering elephant rides as these animals are very poorly treated.
Kandy is an incredibly relaxed city set around a picturesque lake. It is historically important as it is home to the Temple of the tooth that is said to contain a sacred tooth relic from Buddha. Cultural shows are held every night by the lake and they involve traditional dancing and drumming in elaborate costumes. The most exciting bit is at the end when the performers walk on hot coals and eat fire to a rapt audience.
Sri Lanka is a deeply religious place and it has beautiful temples all over the country, perhaps the most intriguing for kids are the ones set in caves. The Dambulla Caves are filled with resplendent Buddha paintings and statues that children will love to explore. It is close to Sigiriya Rock so it is easy to combine trips.
A lesser-visited cave temple is the Mulgirigala Raja Maha Vihara near Tangalle which is incredibly calm with beautiful views of Sri Lankan countryside. It also has a small colony of toque macaques that live off the offerings that worshippers bring.
Last but not least is perhaps Sri Lanka's most famous landmark, the instantly recognisable Sigiriya Rock. While it sounds a bit scary to climb a rock with kids, the queue is pretty slow and the stairs have a fence around them. There's also lots of space at the top to take in the gorgeous surrounding countryside. It does get very hot so I recommend going in the morning while it's slightly cooler.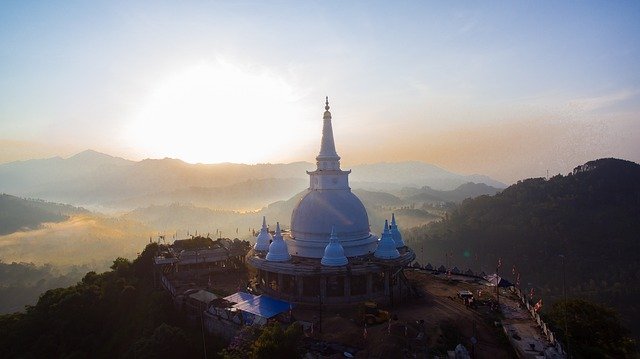 I hope you've been persuaded that Sri Lanka is the perfect place to visit with kids! This wonderful island is guaranteed to welcome you with open arms whenever you decide to visit.
Author: Jen Sizeland is a British writer and producer based in Manchester in the UK. Her travel blog is called Land of Size (http://landofsize.com) and it focuses on ethical living and eco-friendly travel.