A fun vacation with the family is the best way to rejuvenate your love and build stronger bonds between the family members. And what is better than the Chardham yatra in the beautiful city of Dehradun. Beautiful landscapes, delicious cuisine, and alluring weather is the quality of this city, which you can experience any time of the year. The town contains ample options to make you go crazy and makes you want to come again and again.
The Chardham is the tour of the four sacred places of Dehradun city – Yamunotri, Gangotri, Kedarnath, and Badrinath. These four places are famous for their unique history and location, whether it is Kedarnath, where giant mountains are covering the temple from the three sides. Or Yamunotri, which consists of a beautiful waterfall behind.
If you are looking for a Chardham yatra by helicopter package that also includes some other famous places and fun things to do during your Chardham yatra, Leisure India Holiday is the ideal option for that.
Where to Book your Chardham Yatra by Helicopter Package?
LIH Leisure India holiday provides Chardham yatra tour package by Helicopter and other special packages that contain attractions other than the four sacred sites. We also design holiday packages that include the places that you like to make your holiday memorable.
Why Chardham Yatra an Ideal Place for Holidays With Family?
Located in the foothills of the snow-filled mountain region of enormous, the Himalayas have ample options, which makes this place an ideal holiday destination with friends as well as family. Snowy mountain peaks, lush green mountains, serene landscapes, magnificent glaciers. In addition to this, dense forests, wildlife exposure, and water sports, the region is filled with adventures.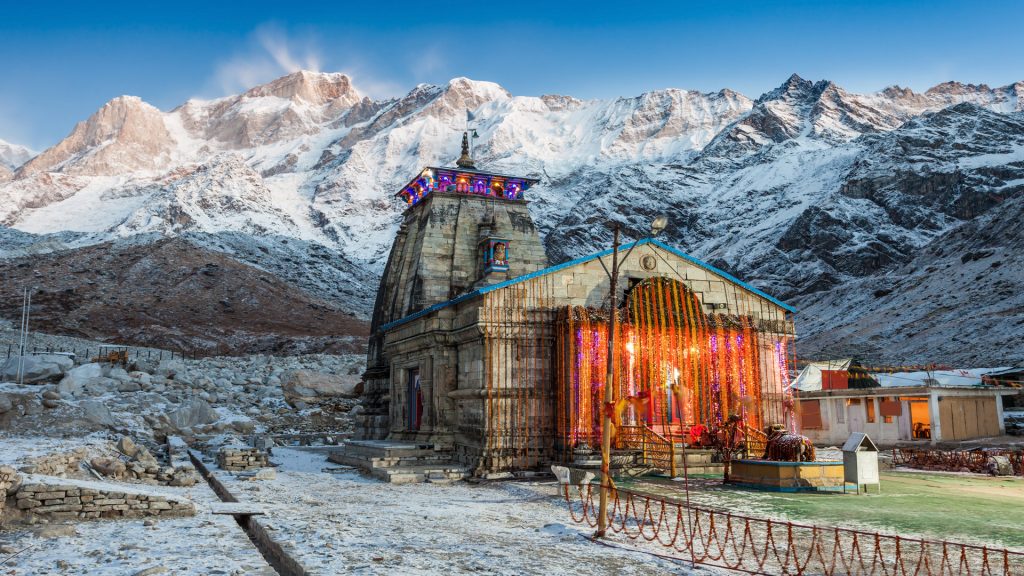 There is something about this place because thousands of people come here every year to experience and allure these beautiful places and to know about the history behind them. If you're planning to go for Chardham Yatra, this article will help you to understand what you can do with the family on Chardham yatra to make your holiday the best.
Also Read: Travel Tips to Follow While Travelling with Young Kids
Things To Do With Family On Your Trip to Chardham Yatra by Helicopter:-
1. Visit Chardham Yatra Within the Route and its Nearby Location:-
We always look out to more and more places to explore in the particular region in which we are going for a holiday. Chardham yatra also consists of some exciting places to visit during your journey.
Some of the places that you can explore during your journey of Chota Char Dham yatra by helicopter:
#1 Haridwar and Rishikesh
These two destinations are the main attraction of Dehradun one cannot miss. Whether it is a special Aarti on the riverside of holy river – Ganga or the adventurous sports in Rishikesh. People of every age group love this place.
#2 Robber's Cave, Dehradun
It is believed that this place is where the robbers of the old times used to hide. The unique thing about this place is that a cold water spring flows from the cave, which disappears from a point and then appears a point further. The location is filled with numerous waterfalls and ponds.
#3 Kempty falls, Mussoorie
On your way to Yamunotri, you can stop by to explore one of the famous places of the city, Kempty falls. It is the best picnic spot for families as well as for friends. Enjoy a refreshing bath under the sacred water of the effusive waterfall. Or you can enjoy some boating at the lakeside.
#4 Joshimath
It is also a starting point where we get buses, cabs, and other travel facilities that move in convoys to Badrinath temple. Winters here are like heaven. Snowy mountains of the Himalayas make you compliment the craftsmanship of God. The place is mostly famous for skiing in winter.
You can explore the beautiful Auli, which is a 3km cable car ride from Joshimath. Joshimath acts as a baseline for many other attractions like 'Valley of Flowers' and 'Hemkund.'
#5 Vasudhara Falls
Vasudhara falls a 6 km trek from the Mana Village, Badrinath. Mountain peaks of the Himalayan region covered with snow feeding the Alaknanda river makes tourists go stunned.
2.  Camping Under the Sky
The best way to get in touch with nature is to live in between the jungles. Sleep in the open with the sky above you containing millions of stars. The city gives plenty of options to go camping and trekking in the beautiful mountains of the Himalayas.
Also Read: 12 Reasons to go Camping with Kids
3. Nature Park
The city gives plenty of options to a fun-filled day with your family. Nature Park, located on the Haridwar-Rishikesh road, is an amusement park where you can spend the whole day without getting bored for a second.
4. Paragliding
Fly into the infinite sky while enjoying the scenic view of the Himalayan valleys. This sport is the perfect match to make your holiday more exciting than ever.
Allure the enchanting beauty of Mussoorie, Tehri, and Rishikesh from the sky, which can make any person go crazy.
5. Monasteries
If you're searching for tranquility to spend some peaceful time with your family, then this option is the best one for you. Dehradun consists of one of the largest Buddhist centers in India; this is the reason why it is one of the topmost things to do in the city. Adore the architectural beauty of the place and the walls, which shows the life of Buddha and Japanese architecture. You can spend the entire evening here.
6. Tibetan Market- for Shopping
Every holiday is incomplete without shopping. Just like other places, during your Chardham yatra, you can do some shopping for you as well as for your family. Tibetan market is one of the famous markets of Dehradun. It showcases a myriad of Tibetan handicrafts in thousands of colors and very popular Garhwali Jewelry.
7. Rajaji National Park
If you're looking for a complete day-out with your family, you can go for a safari in Rajaji National Park. Situated in the lap of Shivaliks ranges in Uttarakhand, this park gives the chance to interact with the wildlife animals like elephants, mountain goats, and goral.
If you are a nature lover, then this place is ideal for you.
8. Trekking
Located in the foothills of Shivalik hills, the city gives some exciting trekking options for you. Tie your shoelace and go for an adventurous trek in the lush green mountains of Uttarakhand. Some famous base camps are Chhaskhet, Bhadraj & Nag Tibba, where you can go trekking.
9. Go Birdwatching
Assan Barrage, located in Uttarakhand is the convergence of the two rivers Assan and Yamuna. By making a network of ponds. morasses and swamps, it attracts a huge variety of waterfowl each year when the season is adaptable.
The species consists of many globally threatened species in addition to the regular ones. Sighting the endangered unique birds will give you some best and most memorable experience during your Chardham yatra by helicopter.
We hope that you make the best of your trip and enjoy it with your family to the fullest.