The charming beauty of the hills refreshes your mind, body and soul. The awe-striking beauty of the Aravalis is what one can experience during their vacation to the hill stations near Jaipur. The breathtaking sunrise and sunset views, ambrosial lakes, plush greenery, adorable temples and enticing mountain views of these hill stations will give you memories for a lifetime. These marvelous hill towns have close proximity from the Pink City and can easily be reached via a road trip. Plan a weekend getaway to some of these enchanting hill stations near Jaipur by booking flight tickets via HappyEasyGo.
Mount Abu
The biggest hill station in entire Rajasthan, Mount Abu welcomes hordes of tourists throughout the year. Enveloped by the Aravalis, this incredible hill town near Jaipur is recognized for its captivating natural beauty and magnificent scenery. The riveting Nakki Lake at the center of this hill town is highly alluring and a primary tourist spot. The place is popular for its intriguing temples and numerous architectural marvels.
Distance from Jaipur: 500 km
Ranakpur
An essential Jain pilgrimage and home to incredible ancient temples, Ranakpur is a lovely hill station known to preserve ancient culture till date. This picturesque town boasts lush greenery and stunning hills, and was named after Rana Kumbha, a significant Rajput king of the past.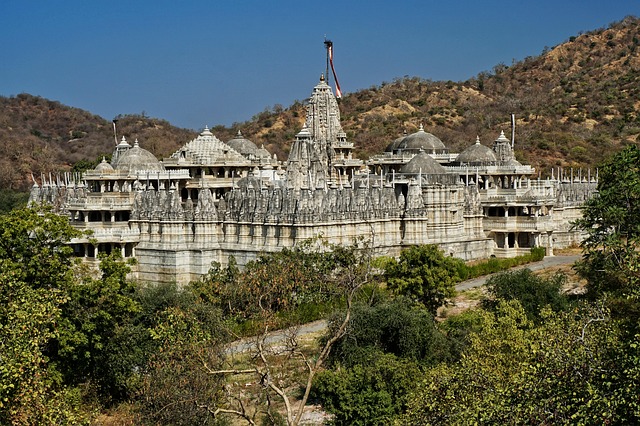 Distance from Jaipur: 360 km
Kasauli
A titillating hill town in Himachal Pradesh, Kasauli is a lovely hill station near Jaipur. Perching at the height of 1800 m, this captivating hill town is home to numerous British imperial architecture and heritage sites. If you wish to experience calm and serenity, this enamoring hill station is the best escape for you. The place maintains its raw natural beauty as it isn't as commercialized as popular hill stations of India.
Distance from Jaipur: 550 km
Mussoorie
Located at the foothills of Garhwal Himalayan Range, this amazing hill town is the Queen of Hills. This is among the most scenic hill stations in the country. The enchanting beauty of this hill town will take your breath away. Sitting at the height of 7,000 feet, this hill station will rejuvenate your senses in a pleasant ambiance. You can try a number of things during your stay in Mussoorie to heighten the experience. The viewpoints, stunning trekking trails, alluring temples, ravishing Kempty falls, paradisaical lake mist are some of the attractions that will leave you awestruck.
Distance from Jaipur: 550 km
Nainital
A charming hill station located in the Uttarakhand state of India, Nainital is an enthralling hill town bestowed with raw natural beauty and picturesque scenes. The captivating Nainital Lake located right in the center of this lovely hill town is a primary tourist attraction. The entrancing mountain and sunset views are simply awe-inspiring and will surely numb your senses.
Distance from Jaipur: 592 km
Besides these hill towns, you can also explore other hill stations near Jaipur, such as Dhanaulti, Kufri, Lansdowne, Almora, Ranikhet and many more. Pack your bags and head for a refreshing retreat now.