There is a never ending supply of family travel tips out there, no matter what type of travelers you and your family are — from yearly international travel to frequent day trips to your favorite beach or state park. The aim when traveling with the family is always to have a stress-free, exciting and fun time during the vacation. The importance should always be on focusing on the fun, adventure, and unique sights to see.
What do you do, however, when you are looking for easy-to-implement sustainable travel tips that are kid-friendly during your vacations? While the possibilities for eco-friendly travel are endless, the highest focus for sustainable vacation habits should be on the eating habits during the trip and time away. It can be harder to pack, eat, snack, and dispose of environmentally friendly products while on the road with the kids in tow, despite what habits you may keep at home. How do you, and your kids, stay eco-friendly while traveling and exploring the world without sacrificing simplicity and delicious meals?
Here are five of the easiest eco-friendly tips to utilize when traveling with the family and maintaining sustainable eating and recycling habits. It does not have to be a struggle to maintain an environmentally friendly livelihood while living life on the road, and in fact, you might be better off implementing these for health and educational reasons, anyway!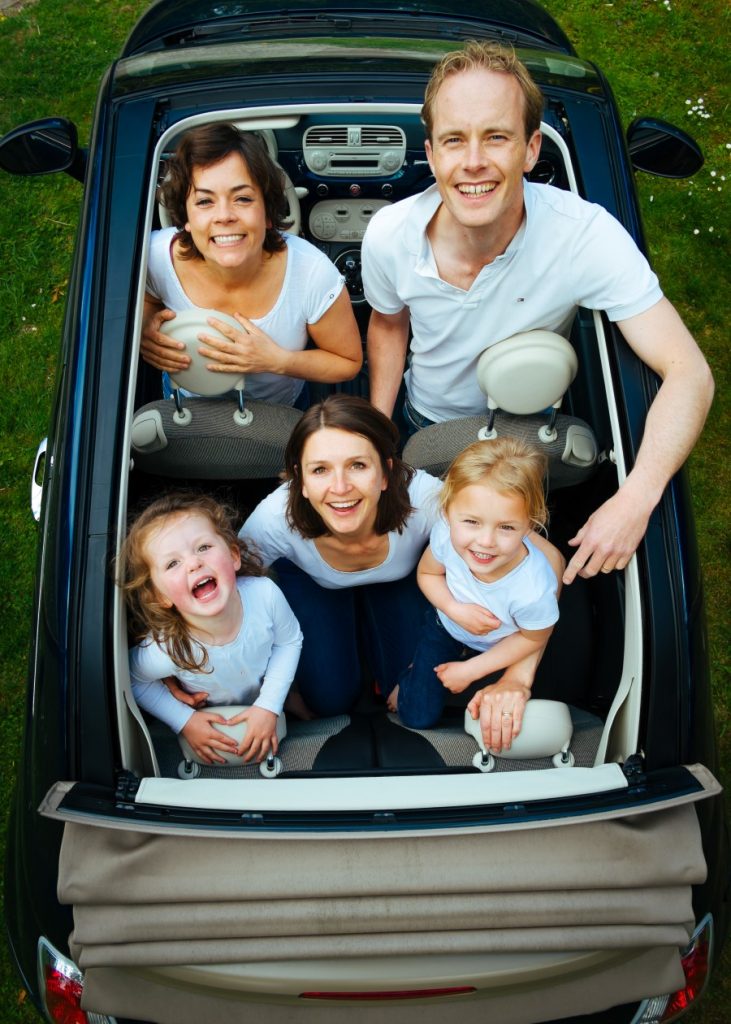 Give them a go, and watch how much waste you reduce without sacrificing time or convenience along the way.
Forget the Wrappers – Pack Snacks With Stacking Tupperware
Whether you are traveling by car or by plane, you always need to think ahead on how to keep everyone in the family fed during travel. A lot of those convenient snack packs you may be relying on, or have relied on in the past, aren't individually wrapped in environmentally friendly packaging material. In addition to clogging your car, pockets, and jacket with trash, you aren't able to separate what can be recycled and what can't, and it feels like you're living in the landfill.
Plan your snacks ahead of time with reusable, stacking and collapsible Tupperware containers. Nuts, granola, dry cereal, dried fruit, and more can all be purchased in bulk and then packed in small Tubberware containers. Sizes range from tiny to family-sized and can be purchased in narrow or tall sizes, whatever fits best for your suitcase and travel bags.
The best part of packing snacks this way is that the snacks stay fresher longer, you have healthier options, and the empty containers stack together or collapse to take up less space. These can also be reused so you can constantly have fresh snacks on hand that are self-contained, easy to access, and don't result in endless amounts of trash every time the kids have a craving. Forget individually wrapped packets, and pack fresh treats in sealable containers instead to help spare the trash you would otherwise have when traveling.
Reusable Utensils and the Proper Cleaning Equipment is a Must
If you have not caught on to the craze of packing your own reusable utensils yet, now is the best time to do so. Dozens of options are out there for reusable utensil kits that fit conveniently in a purse, fanny pack, suitcase, and more. These kits generally include forks, knives, spoons, chopsticks, straws, sporks, and more. You can opt for an all-in-one that has every item, or pick a smaller package option that only provides the utensils you use most.
Whichever pack you pick, be sure you get the one that includes the proper cleaning equipment, like a brush specific to the straw. You can order one for the entire family to share, or purchase a kit for every family member. The utensil kits are inexpensive and often come in a variety of colors, so every family member can get a piece unique to their style, which will mean they'll care for it more and be excited to use it during every meal.
With one of these reusable utensil kits, you can forgo all the plastic utensils and straws you normally use while dining out. These are also easy to clean with a splash of water or a towel, so you don't have to worry about dirty dishes — simply pack them back into their case until next time, and do a more thorough cleaning once you are at the hotel or back home.
Pack Your Own Meals for Day Trips and Enjoy a Picnic
If you and the family are not going away for a long trip, pack your own meals instead of relying on dining out or fast food while you are away. A lot of waste during travel comes from constantly dining out and taking home leftovers, or hitting the drive-thru options.
Some simple packing suggestions for easy-to-please meals include deli meats, cheese, and bread for both snacks and sandwiches; your favorite drinks pre-poured into tumblers and kept in the cooler; smoothies; fruit salads; pasta salads; salad; taco supplies for taco in a bag, and more.
With a freezer bag or cooler and some ice packs, you can keep your food stored in reusable containers for hours on end, providing your family with waste-free meal options whenever they get hungry. Plus, these are healthier meals than most other options you grab while on the road. Forget all the paper and waste you get going through the drive-thru, and have fun with a picnic on the hiking trail or on the beach, no waste required.
Pay Attention to Go-To Packaging When Dining Out and Recycle Wisely
When you do dine out with the family during your trips, always pay attention to the to-go containers the restaurant is using. Some packaging materials, like styrofoam, are not eco-friendly at all and can't be recycled. If a restaurant provides these, or uses plastic bags, try to consolidate your leftovers to a single container, instead of everyone getting a large container for each meal, and pass on the bag.
Other to-go containers, like paper bags or fiber bowls, however, are 100% recyclable and safe for the environment. If a restaurant provides these eco-friendly to-go boxes or paper straws, you can be sure to recycle them once the leftovers are devoured and know they won't end up in the landfill.
Paying attention to the to-go containers is a great way to measure how you are going to save the kids' leftover meals and ensure you recycle wisely. Always be aware of what items can and cannot be recycled, and try to reduce the ones that can't by opting for less waste when you pack your food up to go. It's a small thing to notice, but it goes a long way!
Traveling Eco-Friendly is a Learning Opportunity, Not a Chore
If taking the small steps to travel eco-friendly seems cumbersome to you and the family, take the chance to turn it into a learning opportunity for the kids by way of a game. By purchasing these materials, packing ahead, and reducing the waste you use in restaurants, you are leading by example for your children and can involve them in the activities.
To make it more interactive and more fun for the entire family, have the kids help pack their snacks, meals, and pick ingredients for smoothies or drinks they want on the road. As you go along the way, ask the kids how they think these changes help the earth. Remind them of the good habits of recycling, and teach them that reusable containers are more sustainable than wrappers and why it matters.
Every place you go on your travels can be an example — a beach trip can be used to help explain the importance of recycling and proper trash disposal to avoid pollution, and flying can help you explain air pollution and how waste has a repetitive cycle. No matter what you are doing or where you are going, use your travels as another way to explain responsibility and the earth's health to your family. Once everyone is involved, it won't seem like a chore, but a family bonding experience, and everyone can feel good about the changes being made.
Conclusion
Your eco-friendly habits don't have to stop when you leave home. Involving your kids as part of the environmentally-friendly process can be an exciting adventure for all of you. Be aware of your utensils, how you eat, and what you pack. There are dozens of creative ways to pack snacks and meals for road trips or flights that reduce waste and offer delicious, healthy treats as a benefit.
When eating out, use your own reusable utensils whenever possible, and double-check what materials can and cannot be recycled when disposing of your leftovers' packaging. Kids will be delighted to learn about the earth and how they can make a difference with small actions like these. Lead by example and show your kids the wonderful earth while protecting it during your travels. One meal at a time can make all the difference. Happy and safe travels!