Hey guys, Lisa from Mallorca over here! Guess what: our borders are open and all the budget airlines are back to flying into Palma every day from many hubs.
Alcudia is a major summer family tourist destination so I thought I'd share with you my top things to do with kids in Alcudia on your holidays.
If you are traveling with kids in Alcudia then the chances are that you are staying in one of the huge family hotels with kids clubs, pool and all kinds of in-resort entertainment. Or that you are a few families and have rented a villa with your own pool and grounds. But don't you ever want to get out there and discover more of the place you have chosen to spend your week or fortnight's holiday?
Absolutely.
Things to do in Alcudia – Top family recommendations:
Ice Cream at the Harbour
Let's start with the easiest and the tastiest! Plus, this is one thing you can enjoy every day on your holidays in Alcudia: ice cream at the harbor!
It would be a shame not to go down to Alcudia Port and stop at one of the ice cream shops on the front, take your time selecting from the many delicious flavors, and then savor each mouthful as you stroll down the marina enjoying the gorgeous view of Alcudia Bay. You will be spoilt for choice for flavors: choco mint, raspberry ripple, brownie, and every fruit flavor you can imagine. My favorite is maracuya.
Once you have your cone or your tub, you can walk all the way to the end of the marina where the view is marvelous and you can see all the luxury yachts and local fishing boats moored in their berths.
In the port, there are many nice restaurants and bars. It's a great area to spend an evening and has a marvelous atmosphere. In the summer months, there are often events taking place around the harbor and there are normally artisanal market stalls line the marina.
Saddle up for a spot of Horse Riding
Who doesn't love animals? And what better way to enjoy the views of the resort than from horseback in the hills?
Then saddle up and get ready for a unique holiday experience at Ranxo Ses Roques. This is Alcudia's very own horse riding ranch, offering one- and two-hour experiences, both of which are suitable for families with kids of any ages.
This is a family-run ranch and the owners and staff are great with children – their own having been brought up around animals. There's also a petting zoo where the kids can get up close and personal with goats, chickens, ostriches, a peacock, and a sweet donkey.
Ride Around Alcudia on an Open Top Bus
Kids love open-top buses. The first thing they'll say to you the first time you see one go past in resort will be "Can we go on that?" They look so attractive and colorful and fun.
The Alcudia open-top bus does a 90-minute tour with commentary in different languages and follows a complete route of Alcudia around the resort area, the port, the old town, and to Aucanada, right at the end of the bay.
The Alcudia open-top bus runs every day four or five times depending on the season.
Cool off at Hidropark
Did you know that Alcudia has its very own water park? That's right, and it's open every day in summer.
Alcudia's water park is not the largest on the island, far from it, but it's right on your doorstep if you're staying in the north of Mallorca and it makes a great afternoon out with kids of any age.
Hit the wave pool, fly down the kamikazes, or just relax and watch the fun around you.
Make sure you pick up your tickets before you get to the park, as they are always more expensive on the door. The best place to get them is from one of the No Frills Excursions shops, where they'll give you the best price and directions to the park. Plus you'll be given an open ticket to use any day you want.
You're on an Island, so Take a Boat Trip!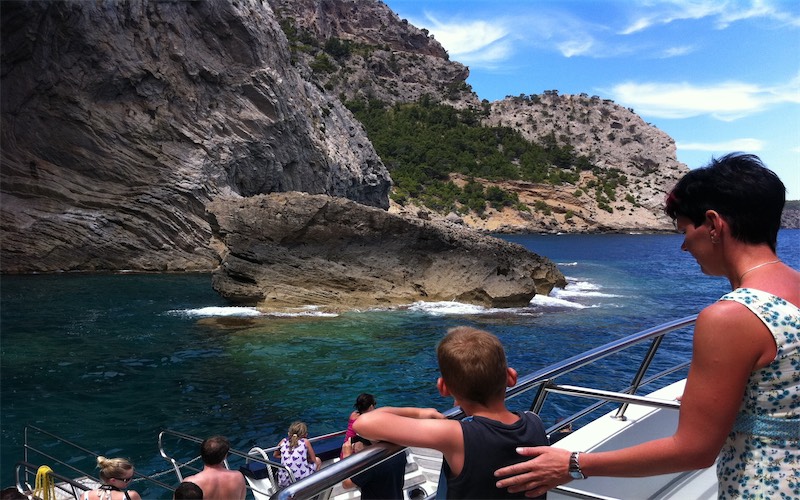 You are seriously spoilt for choice when it comes to boat trips departing from the Port of Alcudia. There are full-day catamaran tours with lunch and drinks, glass-bottom boat rides around the bay, and adrenaline speedboat adventures, among many more.
But how do you choose the boat trip that is the most suitable for your family?
These are my top two boat trips for families in Alcudia:
Submarine Vision Boat in Alcudia Bay
Often, parents are not sure how their kids are going to feel or behave on a boat ride, because many times the children haven't been on a boat before or haven't had much experience on boats.
The two-hour submarine vision boat in Alcudia Bay is my favorite for families with young children or a nervous family member.
The excursion operates daily from the Port of Alcudia and takes place on a large glass bottom boat from around Alcudia Bay, passing Aucanada and Es Coll Baix.
The boat normally anchors for 20 minutes close to Es Coll Baix and you can jump off and have a swim. After two hours you are back where you started.
Formentor Boat Trip
The boat trip to Formentor also takes place on a glass-bottom boat, meaning that the kids can go down to the lower deck and look through the glass to try and spot the fishes.
This boat trip is a 4-hour boat trip in total, and sails out of the Bay of Alcudia crosses the Bay of Pollensa and docks at Formentor Beach. The landscape is spectacular. I recommend this boat trip to families with children because you don't spend the whole time on the boat; you get one hour for swimming or playing at Formentor Beach.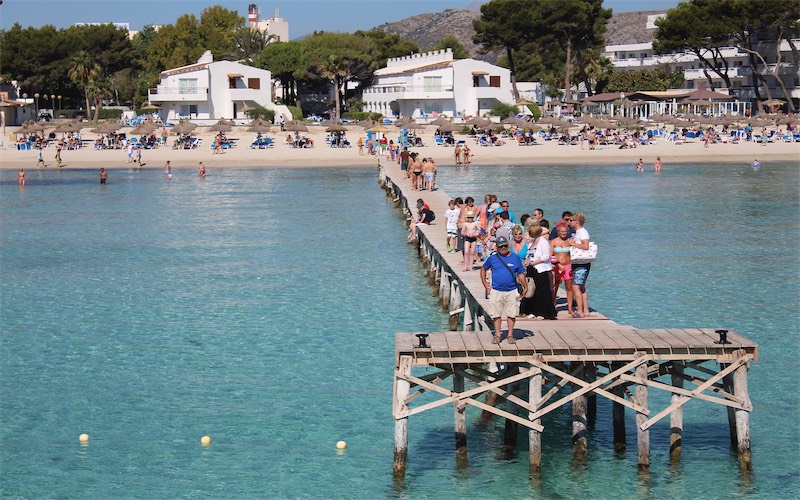 Explore off the Beaten Track
It's not easy to find off-the-beaten-track in Mallorca in summer; an island of one million residents and a further eight million visitors per year (mostly between April and October) but it is possible for the determined.
If you want to stay around the Alcudia area then you must rent a car (you could check for discounted offers at StressFreeCarRental.com) or take a taxi to the La Victoria area for some gorgeous landscape and incredible hikes. La Victoria is one of Mallorca's famously steep hills but the hikes are varied in difficulty and if you or the kids are feeling really lazy then don't worry; you can still enjoy some seriously amazing beaches in La Victoria area. The best (and most popular with locals, so steer clear on weekends) is probably S'Illot Beach. This is a wonderful beach to spend the day at where the kids can swim and snorkel in the shallow waters and those who are up for it can do a spot of cliff jumping from the rock islet just offshore.
Be sure to take a picnic as there are picnic tables right by S'Illot Beach and the views out over to the Bay of Pollensa are astounding.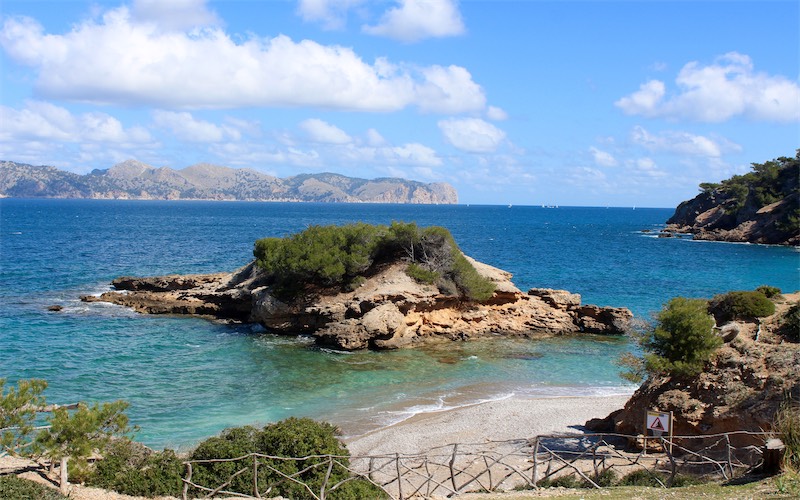 Spend the Kids' Pocket Money at Alcudia Market
Alcudia Market takes place in the old town of Alcudia on Tuesday and Sunday mornings. You could combine your market visit with a stroll around Alcudia Old Town: walk on the old walls, check out the ruins of Pollentia, the Roman capital of the island, or just soak up the atmosphere around the old narrow lanes.
The market is one of the larger ones of Mallorca, especially in summer and, as well as being a great place to watch the locals buy their weekly produce, it is a fantastic place for gifts, souvenirs and where the kids can spend their pocket money on themselves and on those obligatory classmate holiday trinkets that must always be purchased and handed out on the first day back at school after the holidays.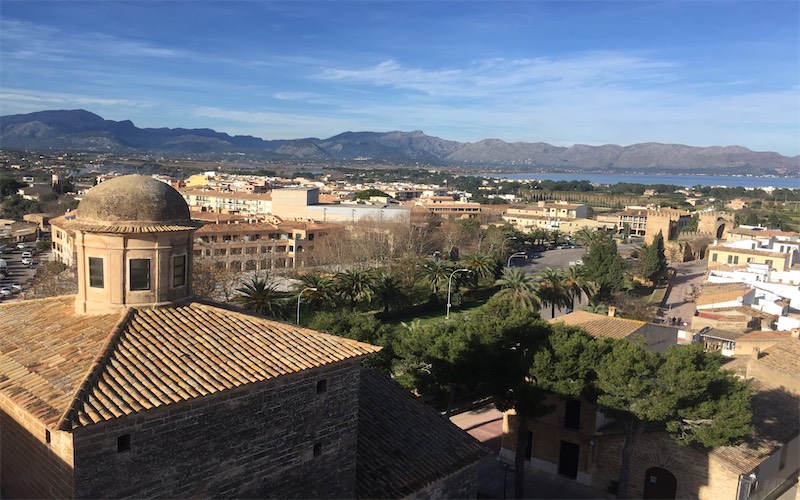 Bike Around Alcudia
I'm not talking about those big stupid contraptions that fit the whole family aboard and that get stuck and block the roads because only one person on it is pedaling! I hate those things. As does everyone I know that lives here in Mallorca.
I mean you can explore Alcudia on a real bike.
You can rent a bicycle on practically every street corner in Alcudia or even at your hotel. And guess what: apart from between the resort and the old town, Alcudia is flat! There are loads of cycle lanes too, so it's super safe for families to ride a bike around Alcudia. You could just explore the resort or you could cycle to the Albufera Natural Park. That brings me to my next suggestion…
Albufera Natural Park
The Albufera Natural Park is a protected wetland and haven for birds.
You can get there easily by bus or bike from Alcudia, as it is just down the bay in Playa de Muro. This natural wildlife sanctuary is manned by park rangers and has a visitors' center where families can learn together about the different species that take shelter there (specifically birds migrating between Europe and Africa in spring and autumn). There are clearly marked walking routes to follow, allowing you to explore the park at your own pace.
There are also bird watching hides, where you can sit and look out across the marshes, watching all the different birds and animals. Inside the hides are information charts showing the different birds that visit the area.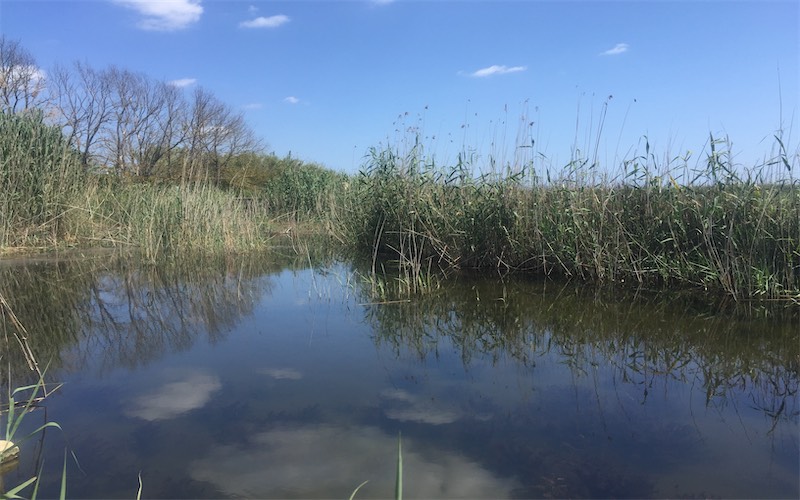 Geocaching in Alcudia
Hidden treasures, secret clubs, and cryptic clues… What is all that about? Have you heard of Geocaching? It's basically a treasure hunt where you find a hidden artifact by following GPS indications and clues from the Geocaching app. And these Geocaches are all over the world. Try locating the one on the old walls of Alcudia or the one just by the bull ring in the old town. You could combine a cultural visit to Alcudia's historic old town with a spot of Geocaching for the kids. Just make sure you have your phone battery charged to the max.
If you really get bitten by the Geocaching bug then this is something you could do at home or when you go on holiday to other places. In other areas of Mallorca, you can continue your Geocaching experience, combining it with visiting a new place, by hopping on a bus or taking a drive to other nearby towns or villages. Puerto Pollensa is a great place to start as it is a great family-friendly resort and is less than a 20-minute bus ride away. Plus it has a fabulous beach and gorgeous pedestrian walkway along the seafront known as the Pine Walk.
Are You Up For The Challenge?
If your kids are over six years old and are up for an adventure, then take The Challenge. It is a treasure hunt, multi-activity adventure in groups with a ride on a jeep, snorkeling, kayaking, coast trekking, and cliff jumping. It takes place close to S'Illot Beach in La Victoria, the area I mentioned earlier.
If you have teenagers, this is a must. It will be the highlight of their holiday.