Are you looking for an exciting weekend break in the Scottish highlands? Maybe a relaxed romantic trip for two or an action-packed family adventure? In this guide, you'll find some amazing hotels for weekend breaks in Scotland.
There are some awesome deals as well so you can book your perfect getaway. Whether you're looking for a cool city break in breathtaking Edinburgh or you want to immerse yourself in the stunning wildflower and waterfall adorned area of The Black Isle, you'll find it in this handy guide. If all that has made you eager to get a booking, then sit back, relax and read on to find out about the amazing trips that Scotland has to offer.
Tips Finding Hotels Deals Scotland
Weekend breaks don't need to cost the earth and we've found some crazy cheap deals without compromising on quality. If you're looking for cheap hotel accommodation in Scotland, then read on!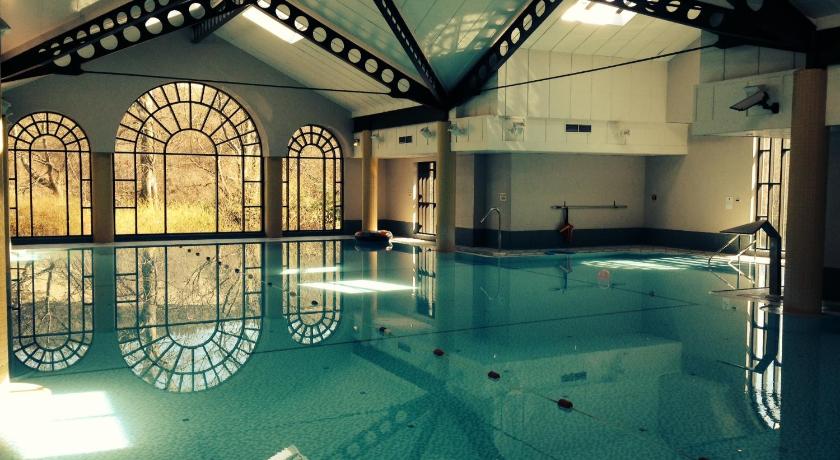 The Peebles Hydro Hotel and Spa is the perfect example of an affordable but high-quality hotel. The Peebles is a three-star hotel nestled in the spectacular Scottish borders. Offering spacious, super cozy and well-equipped rooms, all of which are en suite. Everything you need for a relaxing stay will be in your room for you, including hairdryer, TV, Wi-Fi, and tea/coffee making facilities. And to make it extra special for you a few little extras such as toiletries, bathrobes, and slippers will be included. If you enjoy the great outdoors, the Scottish Borders is home to some of the most stunning views with walking and cycling trails for everyone, from complete beginners to experienced hikers.
Greens at Gretna is an iconic hotel, dubbed "the first hotel in Scotland". Stylish and trendy, this 3-star hotel is the perfect location for exploring either north or south of the border. At the Greens Hotel, you'll experience a high-quality 3-star weekend break in Dumfries and Galloway. It has the most picturesque scenery of the Solway Coast, and the views are so vast you can even see the Lake District Mountains, what better way to spend your perfect weekend than in one of the oldest and most beautiful hotels in Scotland. The Greens at Gretna is just perfect for exploring if you're interested in all things historic, then The Castle and Cathedral at Carlisle is a must-see. The Gretna Hotel is famous for the "Blacksmiths Shop" which is based on the site. Learn all about the history behind this 300-year-old establishment, which quickly became Gretna's best-known marriage venue for eloping couples.
Scottish dinner bed and breakfast Options
Looking for hotels that offer bed, breakfast, and dinner? We've done the hard work for you, check out these swanky Scottish hotels for a unique and exciting weekend break.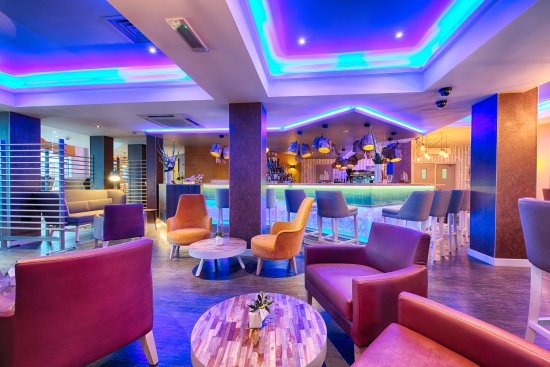 The Leonardo Royal Hotel is a luxurious, contemporary hotel located in the Haymarket area of the historic city of Edinburgh, perfect for a spot of exploring. Breakfast consists of an extravagant Scottish buffet with a continental option as well. In the evening you can expect traditional dishes and modern cuisine with a twist.
If you're looking for a beautiful country hotel, then look no further than The Piersland House Hotel. This stunning four-star mansion-style hotel is well known for its warm, cozy hospitality and excellent food. If contemporary fine dining is your thing, you'll love the hotels Red Bowl restaurant, serving beautifully home-cooked food by highly skilled chefs. Or if you fancy a more informal atmosphere, the Walker Bar and Restaurant is the perfect place to relax with a tasty bar meal and sample the best variety of malts, wines, and gins that Ayrshire has to offer.
Looking for a more traditional hotel that offers a warm and friendly welcome? The Park Hotel in Montrose ticks that box. Look forward to a delicious brasserie-style menu at the hotels Parker's Restaurant, with a specials board that changes daily so you can experience something different each day!
Picking Cheap weekend breaks in Scotland
Just because you're on a budget doesn't mean you have to sacrifice quality when it comes to choosing your weekend break. We've found some awesome hotel deals in Scotland, read on to find out more!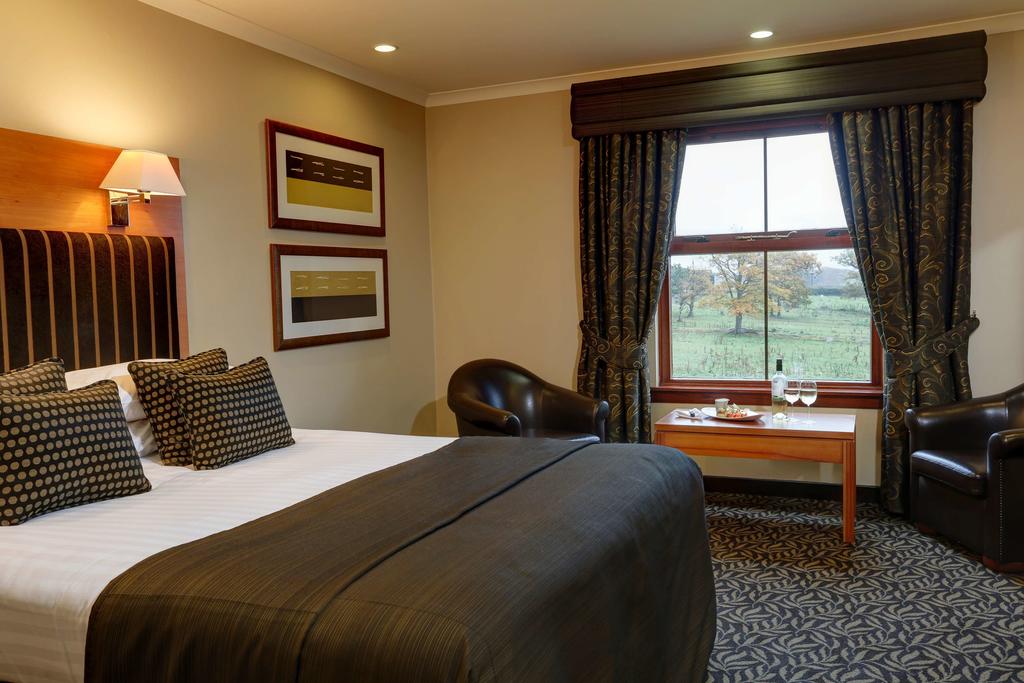 The Garfield House Hotel has the best of both worlds, it's situated in the quiet, tranquil village of Stepps so you can spend your days relaxing and leaving all of your worries behind. However, if you're wanting a fun and exciting night out, the vibrant sights and sounds of Glasgow is only a short distance away if you want to let your hair down! This three-star commended hotel offers exceptional food and amazing service with late deals starting from only £29.50 per person!
You won't find many hotels in Scotland that offer a luxurious bed and breakfast experience at cheap prices, but the Brooks Hotel in Edinburgh does just that. This three-star boutique hotel is an enchanting Gothic stone building with a truly fascinating history dating back to 1840. If you're eager to explore Scotland's thriving capital city then this hotel is perfectly located. Delve into the city's enthralling history by taking a trip to the Old Town, seeking out the vintage shops in the famous cobbled streets and its impressive medieval architecture. Prices for this commended hotel start from just £25.00 per person.
Our Stunning Scottish Hotel Destinations
Scotland has so many beautiful locations and hotels on offer, it's hard to choose just one! But we've narrowed down our top Scottish hotel destinations.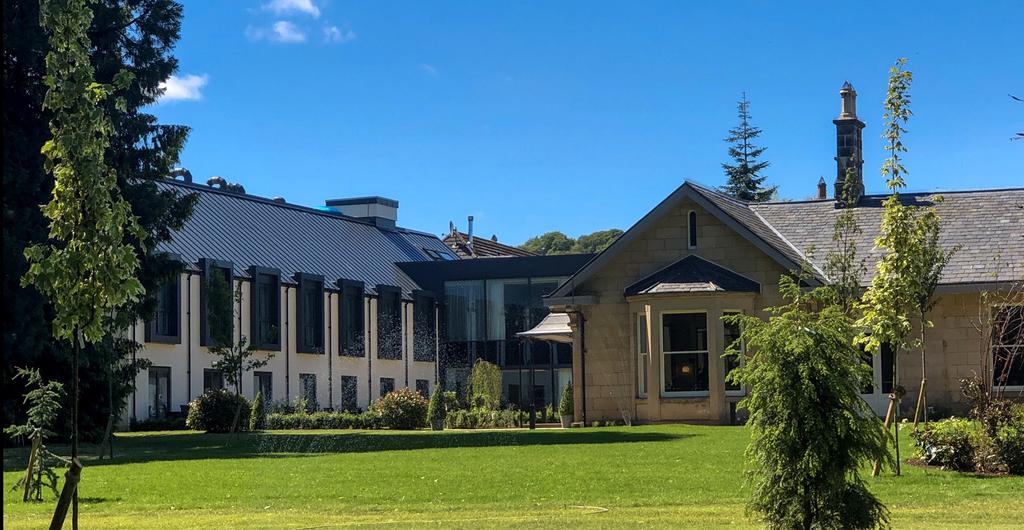 First, we have a beautiful brand new five-star retreat in picturesque Inverness. The Ness Walk Hotel has received commended status and 100% reviews from satisfied customers. It's the perfect location for short breaks in Scotland. This Grade B listed building has been carefully and expertly renovated while still retaining its charming periodic architecture. Enjoy a sumptuous selection of the finest traditional cuisine and dishes inspired by recipes all over the world.
Take in the stunning scenery and crisp, clean air of wonderful Speyside while staying at The Craigellachie Hotel. This characteristic hotel, steeped in Scottish history is perfect for a romantic getaway. You can expect beautifully decorated, chic and super comfortable rooms. Relax in the Copper Dog Pub and enjoy a locally sourced Scottish menu from light snacks to hearty dishes. If you fancy a little tipple after your meal, The Quaich Bar awaits, with a wide variety of whiskeys from all over the world!
Bargain Romantic Break in Scotland
If you're looking at romantic short breaks in Scotland then look no further. We've picked out some charming hotels for you, whether it's a Valentines getaway, a surprise birthday trip or an anniversary, with our useful guide you can choose the perfect short break for your significant other.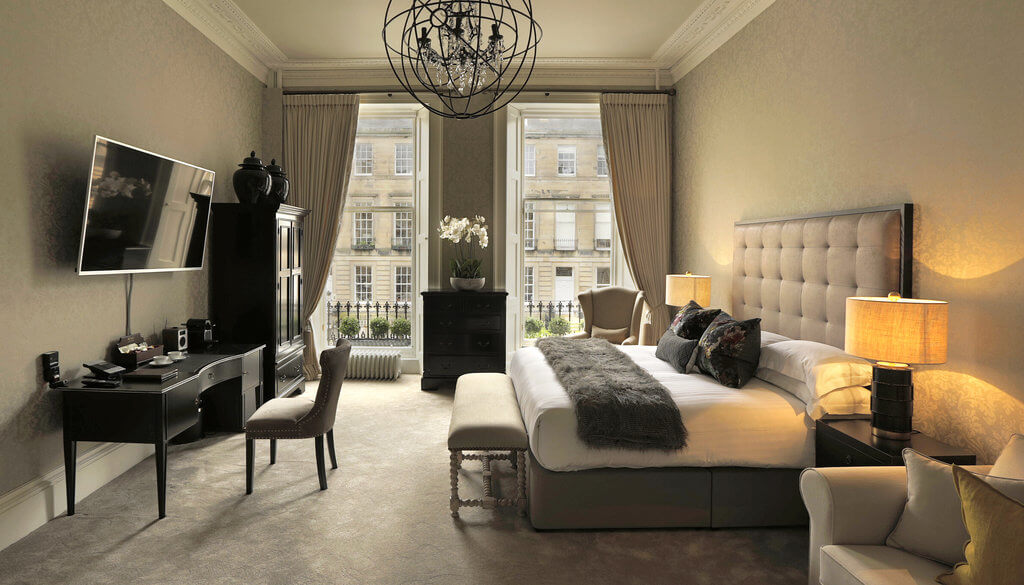 Looking at romantic Scottish city breaks? Then Edinburgh is an essential visit and The Nira Caledonia Hotel in the heart of Edinburgh city centre is sure to please. Contrary to its flashy, grand exterior, you can expect a warm and friendly welcome and a comfortable, relaxed environment. This luxury boutique hotel is situated inside two lavish Georgian townhouses, combining grand architecture with modern interior design, giving it a quirky yet opulent feel. As a guest here you can expect impeccable service, beautifully decorated rooms, sumptuous beds and exquisite food.
If you're looking for ultimate luxury then the Trump Macleod House & Lodge is sure to be a winner. This five-star hotel has everything you need for a fantastic Scottish weekend break. Situated on the outskirts of Aberdeen and set in the woodlands in the centre of the Trump International Estate – this is a country enthusiasts dream location. You can expect deluxe en suite rooms with lavish furnishings and sumptuous locally sourced and freshly cooked food to make your stay at the Macleod House & Lodge as perfect as possible. Enjoy a romantic walk and take in the stunning woodland scenery or explore the vibrant nightlife of the nearby Aberdeen City Centre.
Hotel in the Highlands with Long Walks
If your perfect weekend getaway is a few days in the Highlands, taking in the unspoiled countryside and embarking on long walks to blow away the cobwebs, then we've found some amazing hotels for you to choose from!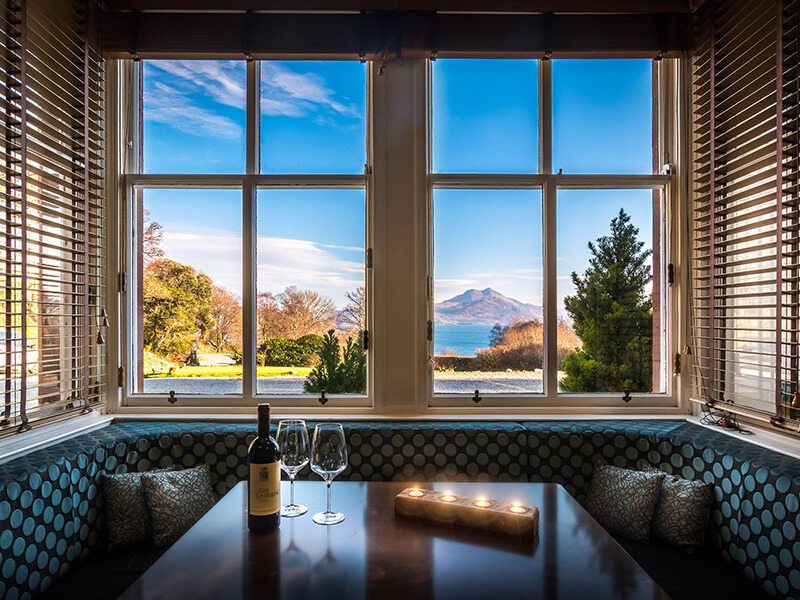 Enjoy a unique trip to the Highlands, staying at the Duisdale House Hotel on the Isle of Skye. Explore all of the natural beauty that the Isle of Skye has to offer – rugged landscapes, quaint fishing villages and historic castles. Offering stunning views and tranquil gardens, it's the perfect hotel for a holiday in the Highlands.
Garve is a walker's or hiker's dream! Due to the amazing scenery on offer, this area is very popular with those who love long walks. The specially built walkways make walking a pleasure. There are pathways for beginners or if you're more experienced and looking for a challenge you can tackle the vast Ben Wyvis or take on the tough and rugged Fannichs. If you're looking for a walking mini-break in Scotland, then the Garve Hotel is the perfect base for you to do lots of exploring. After a hard day's hiking, relax and enjoy a hearty meal in the hotel's restaurant, before retiring to one of the cozy and comfortable rooms on offer.
Nights Away in Scotland for those who Love Castles
There's something mysterious and magical about castles, with their craggy, rugged exterior and deep history, it's no wonder they're such popular tourist attractions.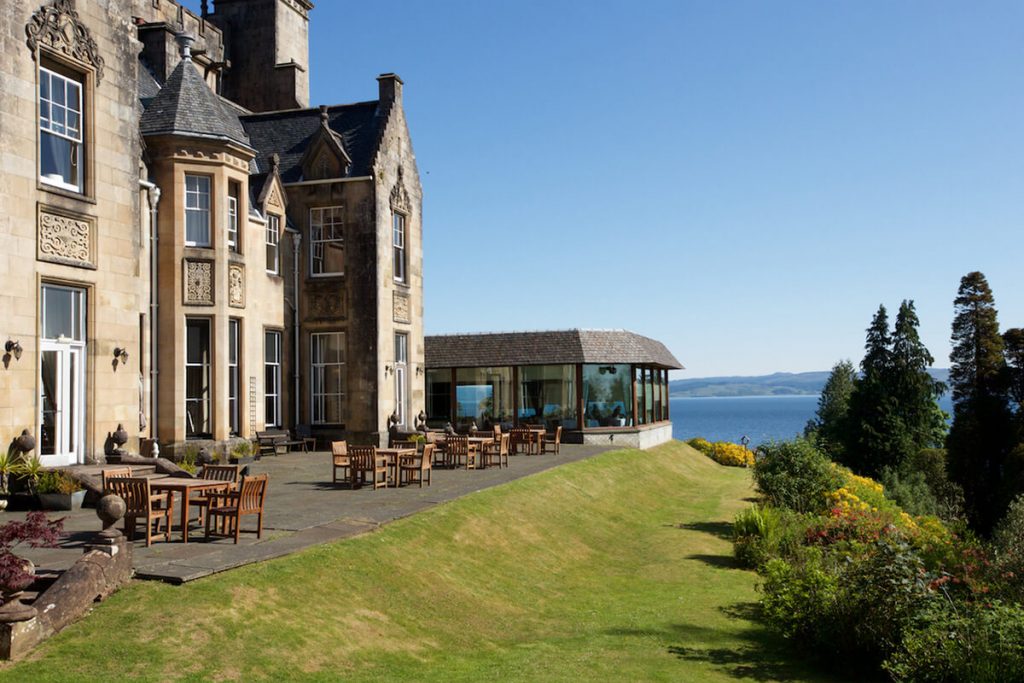 If you're fascinated by castles then why not spend the weekend in one. The Stonefield Castle in Tarbert was once a proud castle standing high on the Kintyre peninsula. Now a refurbished hotel with an AA rosette awarded restaurant, the Stonefield Castle was once home to the Campbell's of Scotland.
The Deeside Inn Hotel is a traditional Inn offering cozy and comfortable rooms in a warm, friendly atmosphere. Balmoral Castle is only a short distance away from this lovely little hotel and a trip to the Royal residence is a must for any castle enthusiast. It's also close to three other castles in the area, so you'll end up with an exciting jam-packed weekend!
Edinburgh Castle needs no introduction. A weekend in Scotland isn't complete without a visit to this world-famous part of Scotland. The brand new Malmaison in Edinburgh City is the perfect base for you to take a trip to the iconic fortress. Offering lavishly decorated rooms, contemporary fine dining and easy access to Edinburgh Old Town, this stylish boutique hotel promises you a luxurious experience.
Budget Hotel for Wise Spenders
If you're looking for the best bargain breaks in Scotland, then check out these super cheap but high-quality hotels.
The Arrochar Hotel is a charming little hotel offering stunning views over Loch Long. With its cozy comfortable rooms and picturesque views, this is the perfect place to relax and unwind. With the quiet, peaceful setting and miles of countryside, this would be the perfect place to bring your four-legged family member. Enjoy hearty traditional Scottish food and after a day's exploring why not treat yourself to a drink in the cozy lounge bar. Prices for this wonderful retreat start at just £19.50 per person!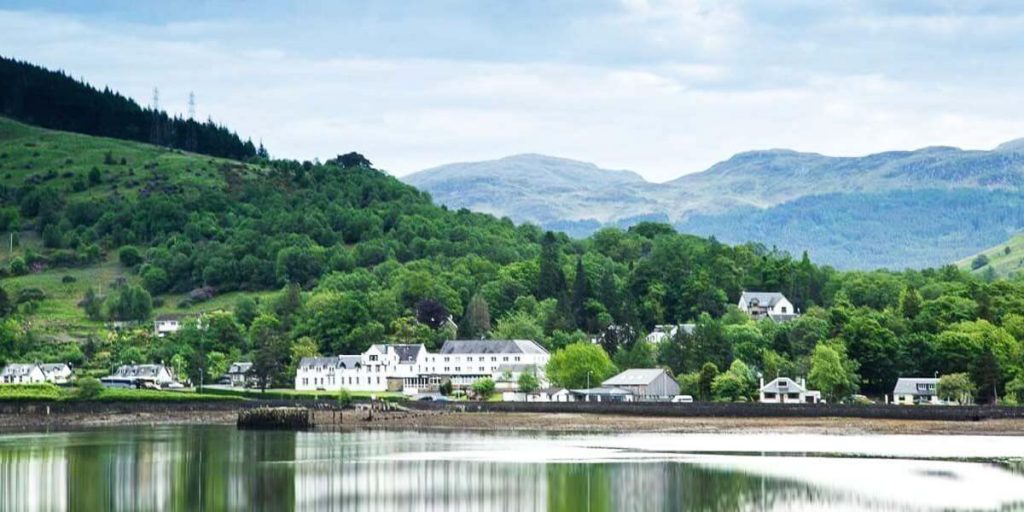 An impressive Victorian-style hotel, the Muthu Alexandra Hotel provides amazing views across Oban Bay. The Alexandra has been lovingly renovated and the interior carefully designed to evoke feelings of relaxation and comfort. The hotel's restaurant offers guests daily specials of home-cooked food so you can enjoy something new each day! Late deals at this hotel start at an amazing £30 per person.
As you drive down the tree adorned drive, you'll see the striking features of the Kincraig Castle Hotel in all of its glory. The hotel overlooks The Black Isle, so if you're craving an adventurous hike then it's the place to be! Visit its RSPB nature reserves, Fairy Glen, with its mesmerizing waterfalls, songbirds, and delightful wildflowers. Or Udale Bay where you can find pink-footed Geese. If you've ever wanted to encounter dolphins, then a walk to Chanonry Point is a must! The bottlenose dolphins can be found splashing around in the Moray Firth. With prices starting at just £34.50 per person, this is a hotel not to be missed!
City Breaks in Scotland that have Loads on Offer
If you're looking at city breaks in Scotland that have lots to offer, then take a look at these hotels for a fantastic, busy weekend break.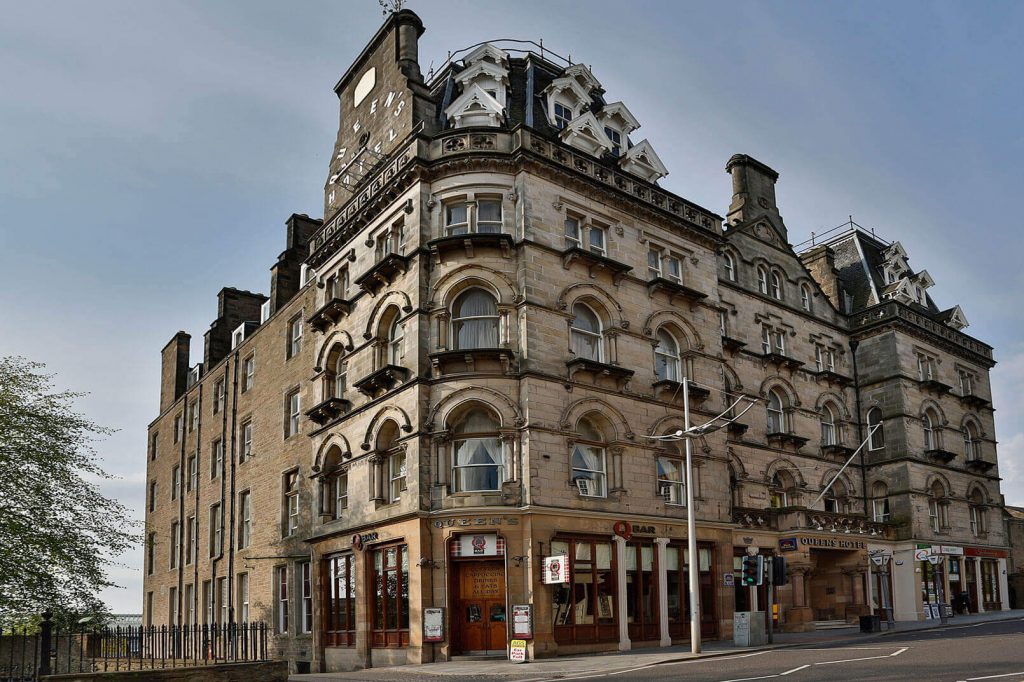 The Best Western Hotel in Dundee boasts an enviable past such as playing host to some world-famous guests such as Winston Churchill and Frank Sinatra. If you're a shopaholic then Dundee is for you. The city center is a lively, vibrant shopping haven. Dundee is infused with both history and culture and is home to some award-winning attractions that will keep you entertained such as Discovery Point and the V&A Museum.
Edinburgh is the quintessential city break. Scotland's capital, it has a medieval Old Town and a chic Georgian New Town, with Edinburgh Castle dominating the city's skyline. With numerous activities, including shopping in the West Ends quirky boutiques or taking a tour of St Giles' Rooftop to take in the stunning panoramic views, offering unique photo opportunities, this is one city you'll never get bored of! The Edinburgh Grand Hotel is the ultimate luxury five-star hotel. Perfect for whisking your partner off for a romantic hideaway, this super stylish hotel has breathtaking views over this famous city.