Are you planning for a family trip with your kids? Do you want to find a place for shopping, food and entertainment come to Fukuoka! Fukuoka Prefectures is located in Kitakyushu Japan, with developed transportation and full vitality. It is a political, economic, and cultural center of Kyushu.  Besides shopping and searching for food around Fukuoka, you also can enjoy the rich natural scenery and hot springs around. There are many kinds of fresh aquatic products unique to Fukuoka.
Kitakyushu Museum of Natural History & Human History (Kitakyushu City)
If you want to fully understand the culture of a city, and teach your kids about history. The largest museum in Western Japan with the theme of "evolution and history of life" is a museum that can be used by both adults and children! The exhibits here are rich. It includes some ancient animals and fossils of plants. In particular, the fossil model of dinosaurs gives a strong sense of oppression and is of great viewing value. At the same time, this pavilion can also introduce people to the evolution of Fukuoka's history.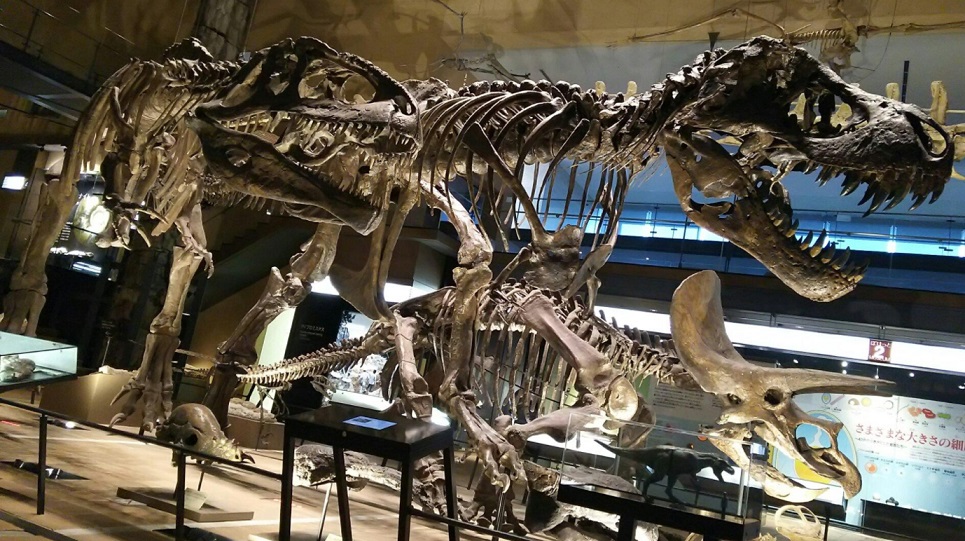 At the same time, the display of this exhibition also gives an immersive feeling. For example, in the aquatic animal exhibition hall, some large-scale fishes such as saw-mouth sharks are suspended on the ceiling with a transparent thread. That gives you and your kids a shocking experience.
Hanoi Rattan Garden in Kitakyushu City Wisteria Flower Appreciation (Kitakyushu City)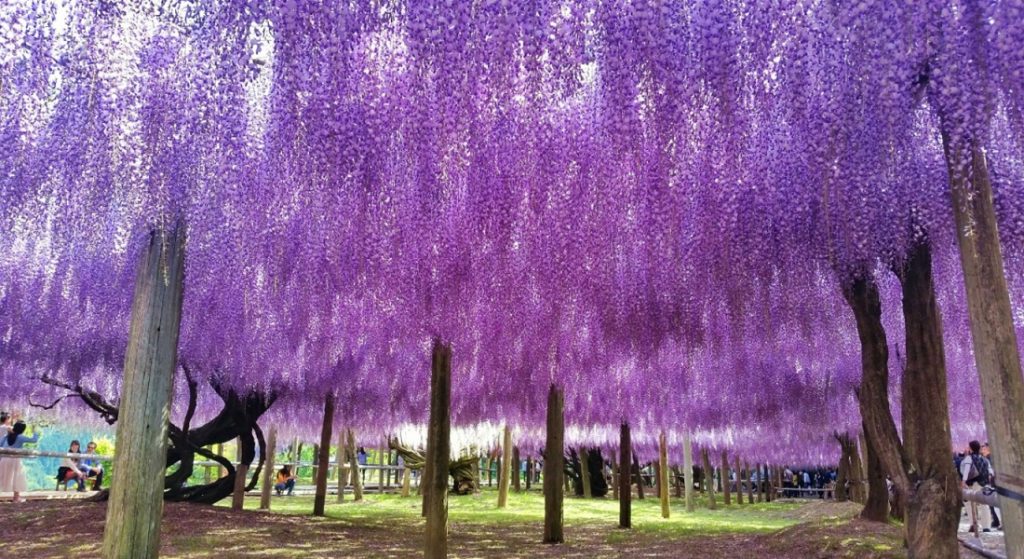 If you are coming with your family, you must not miss this vine-filled park! In spring, when the wisteria flowers are in full bloom, the wisteria flowers and trees spread all over the garden, turning it into a purple sky. In the corridor, purple wisteria flowers and white vine flowers intersect each other. Though make this garden just like a fairyland. Not only can it give a stunning visual experience, but at the same time, it can give a romantic and amazing feeling to you. Just take as many as you can and treasure this scenery. In autumn, there will also be red leaves all over, giving another experience. I am sure your kids and partners will find it fascinating!
Ohori Park
Ohori Park is built on the moat of Fukuoka; the park is located in the center of Fukuoka. Its shape is like Hangzhou West Lake, with a total area of ​​about 4.1 square kilometers. As the 'oasis' of Fukuoka, it is equipped with facilities such as a Japanese garden, Noh Hall, Fukuoka City Art Museum, and restaurants. Is one of the few water parks in Japan.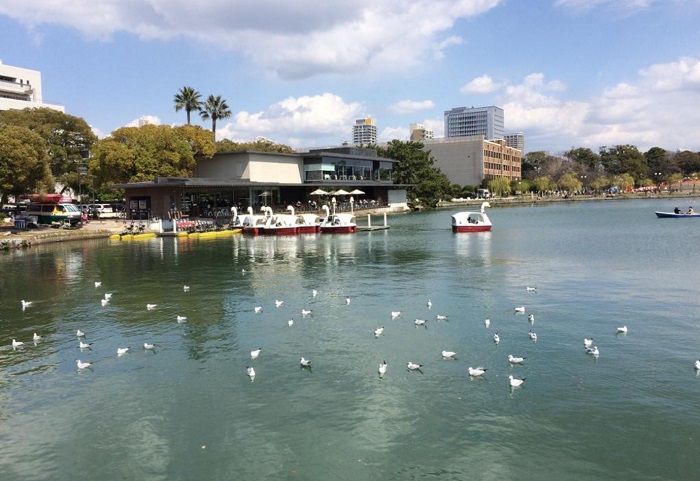 The park is centered on a lake, and the entertainment facilities are surrounding the lake. The water is crystal clear in the lake, and there are often various types of birds on the lake, such as swans, pelicans, and seagulls. If you want to get close to them, you can take the pedal boat, provided by the park. Beside the lake, there are some roads dedicated to cycling and jogging. On the other hand, if you are more interested in static entertainment, you can just visit the museums and theatres in the park. Some café and Japanese gardens are also located near the lake, which is a great place for you and your family to have a rest. If you are with your children or friends, this is a very fulfilling place to go!
Nokonoshima island
What is your aim on the trip? Do you want to stay away from the city and enjoy some natural scenery? Then Nokonoshima Island is an essential attraction for you!  It is a naturally rich island floating in Hakata Bay (around Fukuoka City). The transportation method is also very convenient: take a municipal ferry from Mohamad, Fukuoka City to Nokonoshima Island in about 10 minutes.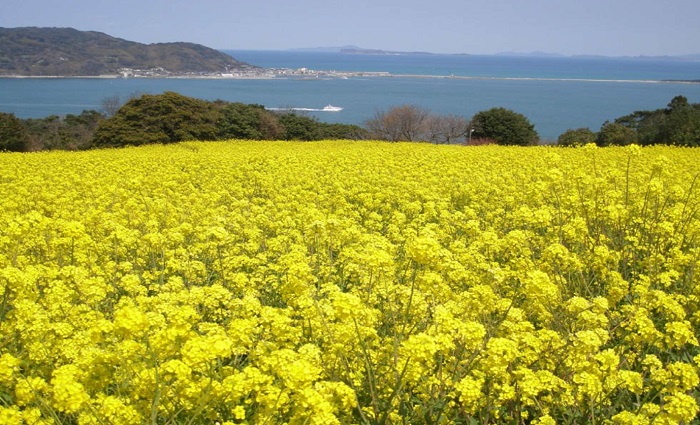 In the northern part of the ancient island, there is a natural park covering an area of ​​about 150,000 square meters. There are cherry blossoms, rape flowers, cosmos, etc., which are blooming in four seasons, so it is famous for its flowers blooming all year round. Especially rapeseed and cosmos are quite famous. At the same time, the blooming flowers and the blue sky and blue sky of Hakata Bay set off against each other, known as the "superb view". Houses restaurants, barbecue huts, "First Senses Zoo", etc. are also located in the park. On the "Nostalgic Street" full of urban nostalgia, you can find antique crude pastries and toys. Besides, you can spend leisure time in residences such as rental villas and camping village huts with your family. Or you can even have a wonderful picnic time here. Business hours are: Monday to Friday, 9: 00 to 17: 30, Saturday to Sunday, 9: 00 to 18: 30
Fukuoka Tower
Fukuoka tower is the tallest waterfront tower in Japan and a landmark of Fukuoka. The tower is covered with more than 8,000 mirrors which are designed as a towering triangular prism. The radiated light no matter the day or night gives a magnificent appearance of this tower.
It is also the best place in Fukuoka to enjoy the night view. When you are standing on the 123-meter-high observation deck, you can through the 360-degree floor-to-ceiling windows to see the view. The bright lights of the entire seaside town light on and off beside your feet. When you are tired, just walk down the stairs one floor. Then come to the coffee shop, order a cocktail and quietly feel the tranquillity outside the hustle and bustle. Moreover, on the evening of Chinese Valentine's Day or Christmas, the mirror windows are decorated with neon lights, showing an impressive night light show. I am sure your kids will love them!
Kushida Jinja
Are you going to Japan for the first time? Or you are very interested in the Japanese traditional cultural industry –'shrine'? then please don't miss Kushida Jinja!  Kushida Shrine is affectionately called "Kushida Jun." Shinto people believe that it is an important shrine.
Kushida Shrine is located next to a bustling market. The historic Kushida Shrine is the main venue of the Hakata Gion Mountain Kasa Festival in Kyushu every July. At that time, many tourists will come here to visit one of the most exciting scenes in the festival-"Chasing Kasa" There will be 26 people carrying the "Decoration Mountain Lisa" floats on the street, finally lively and spectacular.
As the main venue for the three major festivals of Fukuoka, Hakata Gionyama Kasa, there are decorated Kasagi displays throughout the year. You can admire the decorated Yamasa which stands only in the shrine, which usually appears only at the garden festival. You can also watch the ancient ginkgo that symbolizes Kushida Shrine and has a thousand years of history.
Now, are you ready to fly to Fukuoka? It is Cathay Pacific's mission to make the most out of your travels, and this applies to when you fly Hong Kong to Fukuoka. Book your flight now on http://www.cathaypacific.com.