Traveling with kids can sound stressful and exhausting, but the reality can be something entirely different. Traveling the world with kids in tow will be beneficial to everyone within your family. As you will see on your journey, kids enjoy going to new places, exploring new cultures, and taking in all that the world has to offer.
So, why not harness this love and interest while you can? Taking in what the world offers can help shape your kids, so what is stopping you? Worrying about how kids will behave and how they will affect a trip or trips will hold you back and stop both you and your family from seeing what the world has to offer.
Make the Journey As Fun As Possible
At any age, traveling can be boring, and it can be tedious. So, where you can, make the journey as fun as you can. Involve your kids, create games, and let them use their imaginations. When you make a journey or a trip as fun as possible, you make it memorable. So, think about what you can do to bring the fun to what you are doing?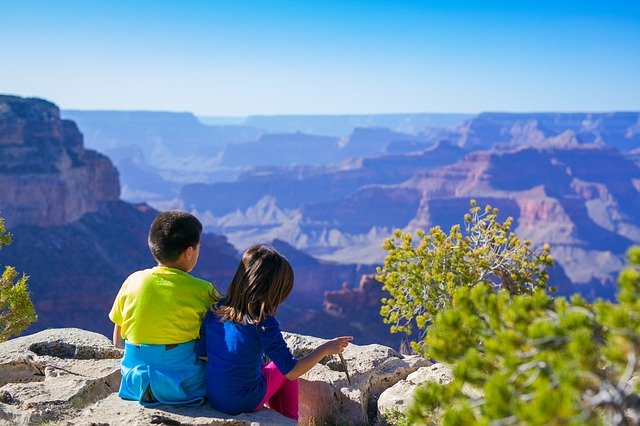 Provide Consistency and Regularity
No matter where you are going or where you are heading to, ensuring that your kids get consistency and regularity is important. Giving your kids regularity and consistency helps them establish roots and helps them find a base, even if it is only temporary. So, for example, if you are traveling and visiting new places every few months or for longer, you could look at getting a subscription box for boys delivered perhaps every month. Or, if they are a bit older, you could look at getting their favorite tutor to homeschool them once a week. Then, having that consistency and regularity in the background will ensure that your kids embrace traveling.
Take Your Time
There is no real rush to visit new places or to travel to different destinations. Taking in where you are, fully enjoying, and embracing what is on offer will make travel a lot easier. When you are rushing around trying to fit lots into a period, your kids will notice, and they will pick up on this. Ultimately, if they pick up on your stress, pressures, and worries, they can end up playing on it and causing you even more stress and worry in the process. So, take your time and relax, and you will find that your kids' behavior replicates yours.
Enjoy the Process
Often you are too stressed or worked up to actually enjoy how fun traveling is or can be. When you overthink something, you start to strip away the fun and enjoyment, and this is not what you want to do. Enjoying as much as you can, where you can be positive for you and your kids. When your kids see you enjoying yourself, and when they see that the process of traveling is not as daunting as they thought it would be, you will notice a visible difference in how they act.
Don't Set High Expectations
Yes, some kids travel really well, and, yes, they love every minute of what a new destination offers; however, some kids don't adapt as well as you wanted them to, or had hoped they would, and this is life in a nutshell. The minute that you start to place high expectations on your kids or on your travels is when you change the game plan. By adding expectations onto your kids' shoulders, you are sucking the fun and the life out of what you want to do, and you are making it boring. Yes, you want them to be perfect little angels when they are traveling, but adding unnecessary pressure or stress onto the process will not make your life any easier, and it will certainly not benefit their lives. So, avoid the temptation to put expectations and pressure onto your kids' journey, and instead focus on letting them be themselves and having a good time.