When traveling with children, making sure they have something to do on your holiday is surely the first thing on your mind. Fortunately, if you're going to Australia, there are many family-friendly activities that you can all do together. For example, if you love spending time on the beach, swimming, surfing, and snorkeling, the Land Down Under is full of amazing spots that you can visit and enjoy. Here are some of the best ones to consider adding to your itinerary.
Turquoise Bay, Western Australia
If you'll be visiting Western Australia, you need to schedule a visit to the pristine Turquoise Bay. Located about 60 kilometers south of Exmouth in Cape Range National Park, this striking beach with blue-green water is sure to take your breath away. With colorful coral reefs near shore, snorkeling will be super fun for your little ones. Another popular activity here is drift snorkeling – you will swim out to the southern end of the beach and ride the current all the way back. As there are no facilities here apart from the restrooms, remember to bring drinks, snacks, and sun protection.
Bondi Beach, New South Wales
An iconic place you should not overlook when visiting New South Wales is Sydney's Bondi Beach. Even though it's not famous for its looks, it's still a popular family-friendly location that you go to when you need a little break from exploring the capital. Just 15 minutes from Sydney's CBD, this beach with clear blue water is an amazing place if you want to swim or surf. Just remember to stay between the flags as dangerous rips can put you in peril. There is also a beachfront skate park that your kids can take advantage of while cafés and shops just across the street are handy for when you need a drink or snack.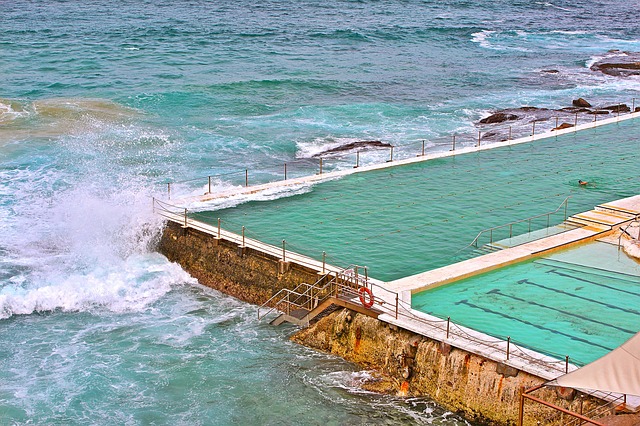 Hyams Beach, New South Wales
On the other hand, if you're looking to escape the capital, New South Wales has many other interesting things to offer. For instance, just two and a half hours away from Sydney by car, you will find Hyams Beach. This beach is known for its snowy-white, squeaky-fine sand but you might also be able to spot migrating whales from May to November as well as bottlenose dolphins. Activities you can safely do with your kids include swimming, snorkeling, and stand-up paddleboarding and you can even teach them how to fish. However, even if you just decide to relax while the kids make sandcastles around you, you will still have an amazing time. There is also a café that has snacks and drinks.
Wineglass Bay, Tasmania
Visiting Tasmania provides you with the opportunity to relax on the gorgeous Wineglass Bay beach in Freycinet National Park. While soaking up the sun, you can also soak up the views of the stark-white sand and sapphire waters of this marvelous jewel of Australia. It will take you about two and a half hours to reach it from Hobart and make sure you visit between December and April for the best experience. Here, you can try sailing, sea kayaking, and fishing as well as go on hikes and bushwalks. Keep an eye out for the Tasmanian devil.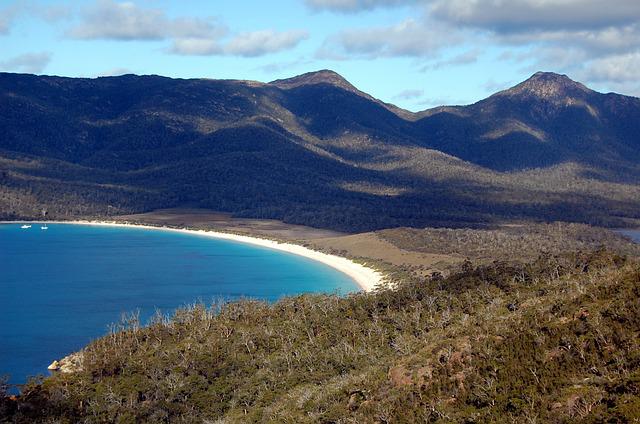 Whitehaven Beach, Queensland
While in Australia, you're surely not skipping the Great Barrier Reef. If you go island hopping, make sure you don't skip Whitehaven Beach in the Whitsunday Islands. This spot often finds itself on lists of the best beaches on the planet and you don't want to miss it if you get the chance. It is seven kilometers long and located within a national park, which means that it will remain pristine and protected. On the southern end of the beach, you can even camp if that is something your little ones might like.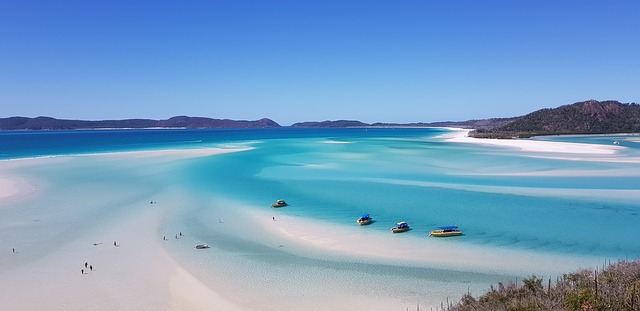 Noosa Main Beach, Queensland
If you're looking to escape Brisbane for a day, you can drive about two hours north to the Noosa Main Beach. This Aussie favorite offers golden sand and blue-green water where you'll be able to go swimming and surfing. What is more, if you visit in March, you can even witness the Noosa Festival of Surfing. For a stunning sunset, take a stroll on the boardwalk along the beach once it starts getting dark. If you need a little break from the sun and water, you can also peruse Hastings Street with cafés, shops, galleries, and restaurants. As it is sheltered, this beach is popular all year long so finding parking might be an issue.
Twilight Beach, Western Australia
Twilight Beach is yet another stunning option for a family vacation in Western Australia. About seven kilometers from the town of Esperance, you will find a safe place for swimming and surfing with your little ones. With a shallow sandbar and a flat shoreline, Twilight Beach is perfect if you have small kids. If your kids are older, you can even swim out to the smooth granite boulders that flank the turquoise water, climb to the top, and jump in after marveling at the view. During the summer, lifeguards patrol the beach, and restrooms and showers are also available. However, remember to pack kids beach towels, sun protection, snacks, and water.
Lucky Bay, Western Australia
From the variety of Western Australia beaches, one more to keep in mind is Lucky Bay. This white stretch of sand comes with a wide range of activities you can engage in, such as fishing, surfing, swimming, and snorkeling. You can also try driving 4WD vehicles here but beware of soft sand to avoid getting bogged down. Moreover, you can even find kangaroos lounging on this beach.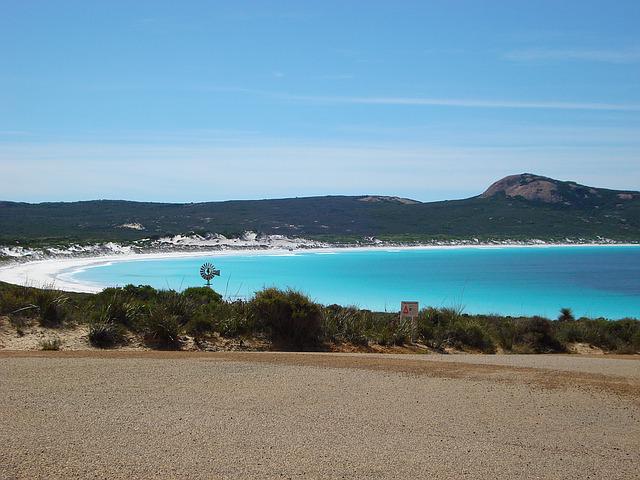 Surfers Paradise Beach, Queensland
Another beach located in Queensland that you shouldn't skip, especially if you find yourself in Gold Coast, is Surfers Paradise Beach. As one of Australia's most famous beaches, it's one of the best places where beginners can learn to surf but it offers all sorts of other activities in addition to surfing. You can also go swimming, relax while sunbathing, and explore the beachfront promenade. The beach is very clean despite its popularity so you will have no problem letting your kids play and explore. Moreover, lifeguards patrol the spot every day of the year.
Barwon Heads Beach, Victoria
Although Melbourne has some amazing beaches such as Brighton Beach and St Kilda Beach, you might want to wander a bit further away. Some 90 minutes away and just before the famous Great Ocean Road, you will find Barwon Heads Beach. A very popular place for beach-goers, this spot is also very safe for families as the local council added a children's playground, barbecues visitors can use, and public bathrooms. While some beaches in Victoria are a bit rough, this one is located on a river so it doesn't have waves. Plus, it's quite shallow and if the tide is low, you might even be able to walk to the other side of the river.
Cable Beach, Western Australia
In case you have a chance to stay longer in Western Australia, there are other amazing beaches besides Turquoise Bay that you can visit. For example, Cable Beach is behind some of the most famous photos of Aussie beaches. Have you ever seen people riding camels against a fiery sunset? Probably Cable Beach. Besides this activity, you can also drive 4WD vehicles and paddle along the shore when there are no dangerous Irukandji jellyfish in these waters. If you plan on visiting this 22-kilometer-long stretch of sand, remember shade protection if you're going during the day.
Vivonne Bay, South Australia
Of course, you cannot skip South Australia on your family travels. Visiting Kangaroo Island is a must for several reasons, one of them being Vivonne Bay. While the beach is not patrolled, it is a great spot for surfing and boogie boarding. If you want to go swimming, it's best to do it in summer once the water is warmer. You can also have a picnic here, go sunbathing, try fishing, and even see seals. Further east, you can find the Seal Bay Conservation Area which has the third-largest colony of sea lions Down Under.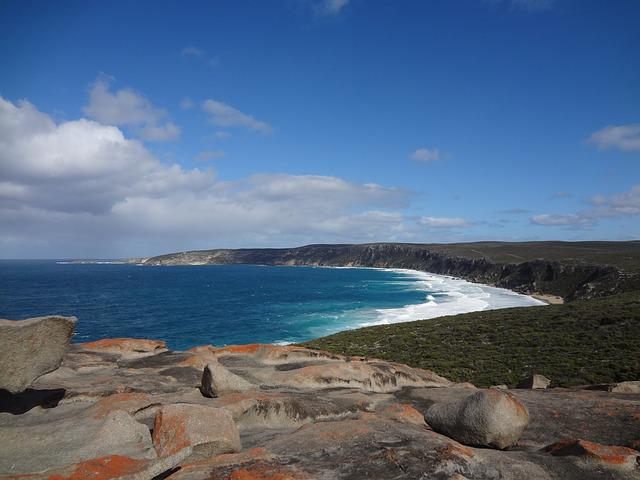 Cossies Beach, Cocos (Keeling) Islands
Finally, an option you might not be considering at all is going to the Cocos (Keeling) Islands. This Australian remote territory consists of two atolls which are made up of 27 coral islands. Only two of those are inhabited. While it takes a 4.5-hour flight from Perth to reach this destination, by going to Direction Island, which was recently named Cossies Beach, you will get to enjoy coconut palms and bone-white sand and get a chance to snorkel alongside the diverse marine life of the area. However, keep in mind that this beach is quite remote so you need to bring your own drinking water and other equipment.
If you're traveling with kids, it's always a good idea to do some research beforehand to see which spots will be able to accommodate you properly. Keep these 13 amazing beaches in mind when visiting Australia.